20 most bought fitness bracelets from Aliexpress in 2019
Fitness bracelets and smart watches with the function of monitoring of physical activity are very popular. In this case someone uses them on purpose, that is, to account for the cardiovascular system and the energy expended, and someone like their other properties, such as notification of calls or the function of the electronic wrist hours. But regardless of the destination, which models are most loved by buyers? In this selection we have collected 8 of the most bought on Aliexpress fitness bracelets that will help you make the right choice.
Upd. In 2019, the collection was supplemented with new models of bracelets.
Fitness bracelet with basic functionality TW64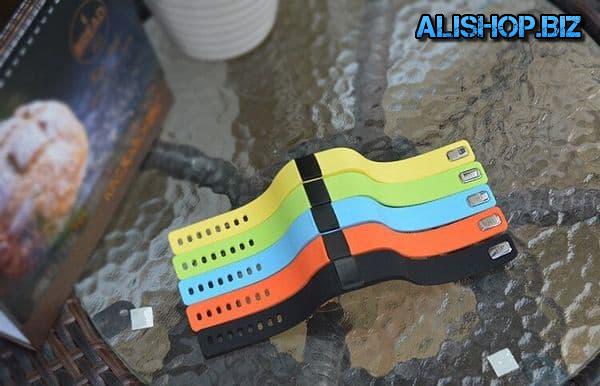 The creators of the bracelet TW64 went the way of simplification, that is, equipped it with only the most basic functionality and a small screen. However, even in this form, the device allows to measure the number of steps, monitor sleep, receive notification of calls and even about the need to drink water. In addition, stand out from the crowd with the owner of this tracker will help some bright straps options.
Price: – $10.19 | buy |
Bracelet with reminders of stillness Eiison ID115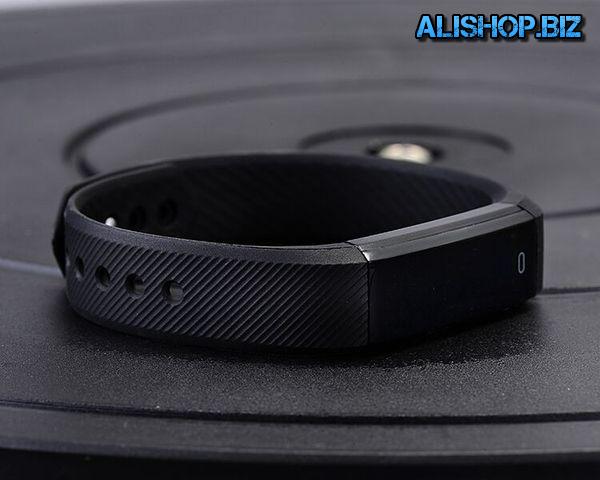 Bracelet Eiison ID115 a little less familiar to buyers, however, can boast of having screen with touch control that displays information about the distance travelled, pulse rate, as well as all incoming phone notifications. In addition, the wristband works even when its owner is asleep. At night it monitors your sleep phases so that in the morning it was possible to perform the quality (smart alarm clock is not). An interesting feature of this bracelet are reminders to move if you have a long time to stay in one place.
Price: – $14.85 | buy |
Fitness bracelet with heart rate monitor Wearpai GT101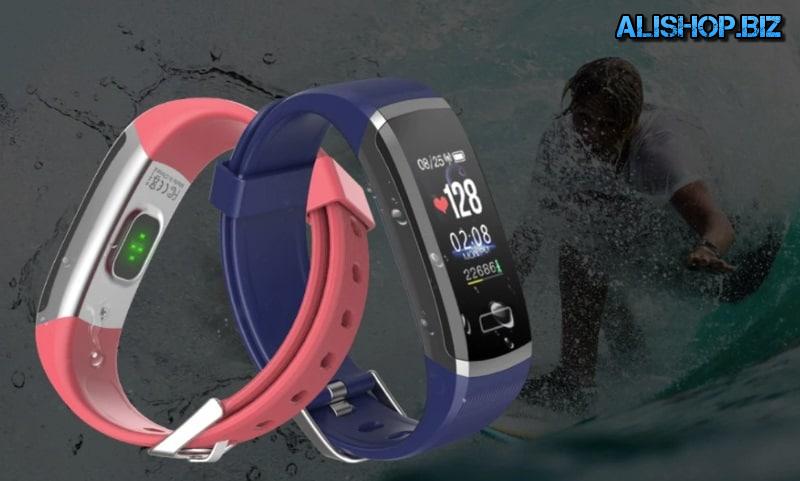 Like most fitness bands, the model Wearpai GT101 is designed to take account of key indicators, including heart rate, and the number of movements. Resolution color display is 80 x 160 pixels. In addition to basic information about activities it is possible to receive notifications of missed calls. Protecting the case from dust and moisture corresponds to the level of IP67. The strap is removable, has a convenient snap closure and available in 5 colors.
Price: – $15.83 — $16.55 | buy |
Smart fitness bracelet TEZER R5MAX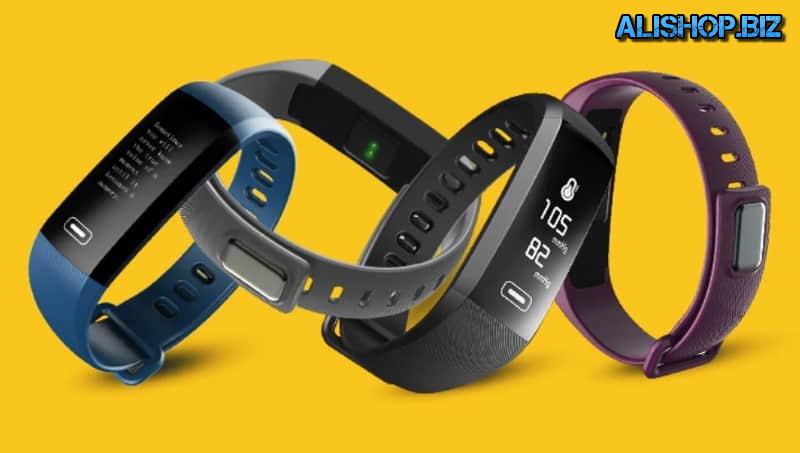 Bracelet TEZER R5MAX refers to the average price segment and has a set of the most requested features, including measurement of pulse frequency, number of steps, and also the ability to track the phases of sleep. Resolution monochrome screen is 128 x 32 points. The level of protection from moisture and dust conforms to IP67 level. Fixture weight is only 20 grams. In addition to sports and fitness, this model is useful for getting notifications about calls and messages.
Price: – $18.83 — $20.92 | buy |
Multifunctional fitness tracker Y5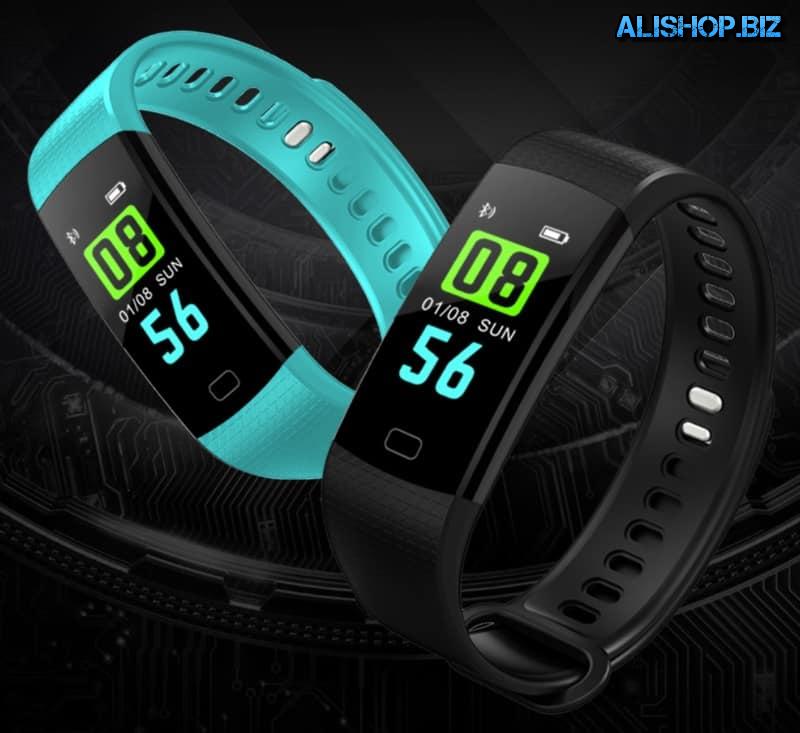 In the device, Y5 has implemented a set of the most requested features that allows you to monitor their own physical activity and helps to maintain a healthy lifestyle. The bracelet has the ability to measure pressure, heart rate and carefully count all the steps, calories burned and sleep time. To display information includes a color display diagonal of 0.96 inches. The list of supported languages is Russian.
Price: – $10.32 — $12.88 | buy |
Activity tracker with touch screen Vwar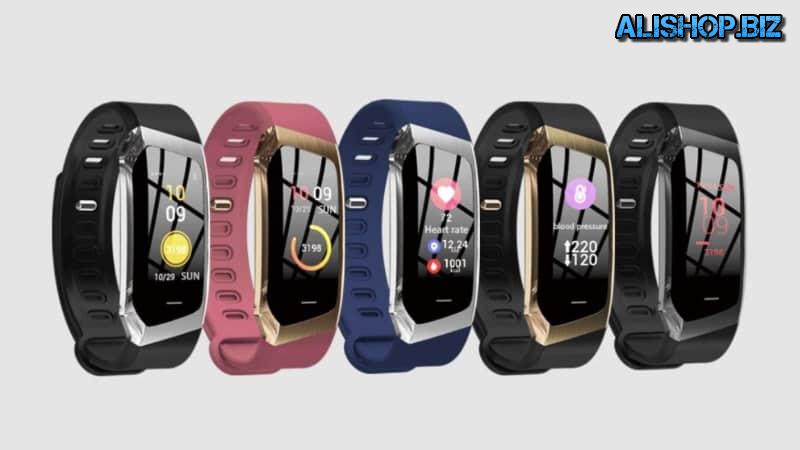 Compared to other models bracelet Vwar stands out for the unusual shape of the screen, which consists of several facets. However, the usability of the device is not affected. The device runs on a chip NRF52832 and it has a colour screen with a resolution of 160 x 80 pixels. While working in active mode is up to 7 days, and in anticipation of the battery can live for a month. The functional device is a little different from its counterparts because it has a standard set of features including heart rate measurement and pressure.
Price: – $25.93 | buy |
Wristband for activity monitoring Lerbyee K1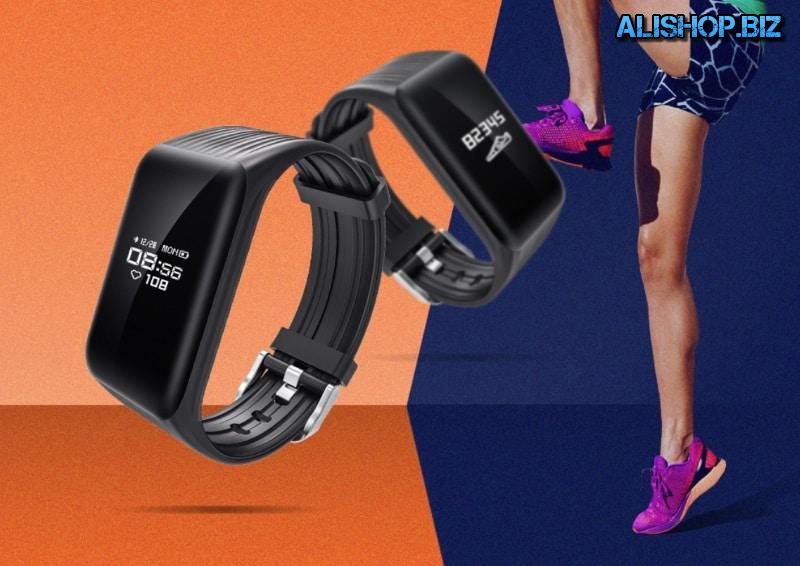 Lerbyee K1 — model with wide color screen, which displays information about the pulse, the number of steps as well as notifications received from the phone. A more detailed analysis of activity indicators is carried out in the mobile app. The search function allows you to quickly find the bracelet, if he was lost in a radius of several meters. For replenishment device uses a specific device in the format of a clothespin.
Price: – $12.06 — $13.66 | buy |
Narrow bracelet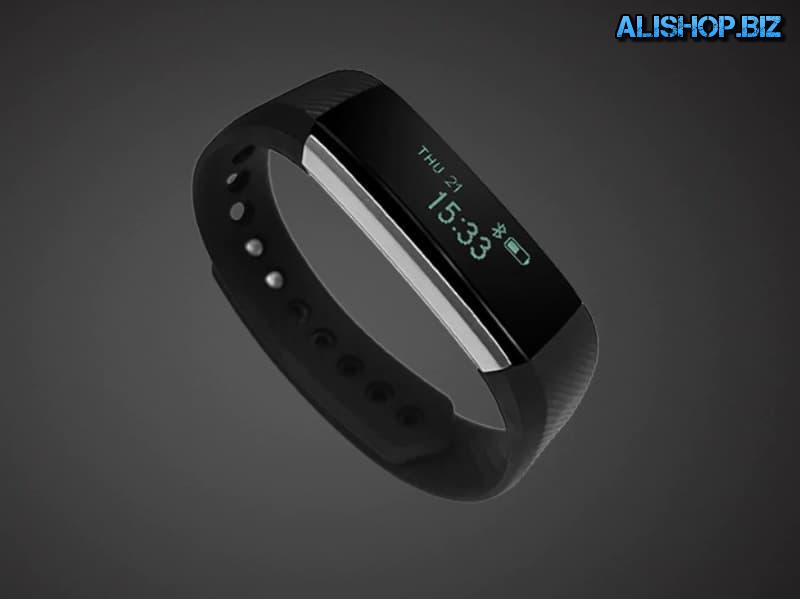 The housing of this device is quite narrow, making it very stylish and simple accessory. Despite this, the screen size is 0.86 inches, and you can use it in vertical and horizontal modes. USB connector for charging built into the device itself and does not require a separate adapter. Claimed battery life is up to 10 days. Device is enabled to display notifications about calls, SMS and messages from social networks.
Price: – $13.56 — $15.07 | buy |
Bracelet with design by Apple Watch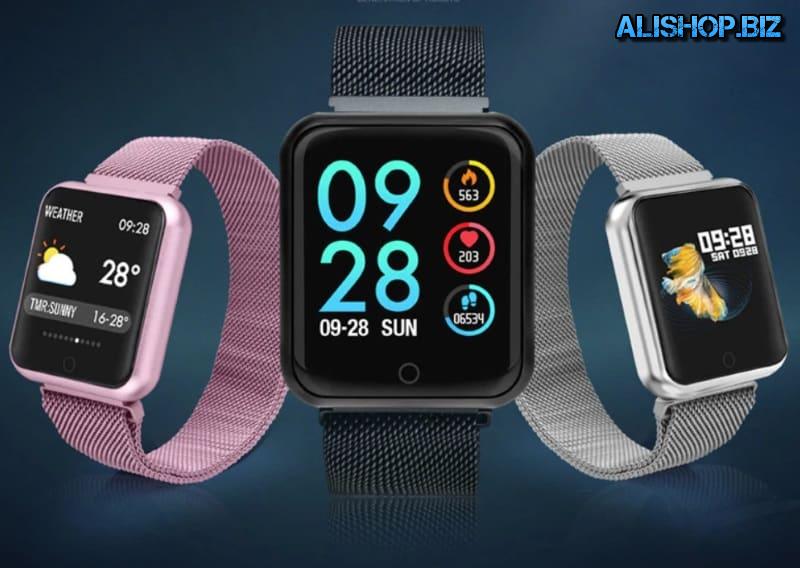 The purchase of this bracelet is enclosed in an elegant case with smooth edges, are justified, if you can not spend the money on the Apple Watch. These devices are very similar in appearance and functionally. The model boasts a large 1.3-inch IPS screen with a resolution of 240 x 240 pixels. In addition to the fitness functions, the device copes with the role of smart watches. Stock charging built-in battery capacity of 230 mAh lasts for 6-8 days of use in active mode. Strap is a removable accessory.
Price: – $30.02 — $33.78 | buy |
Sports tracker Luoka S226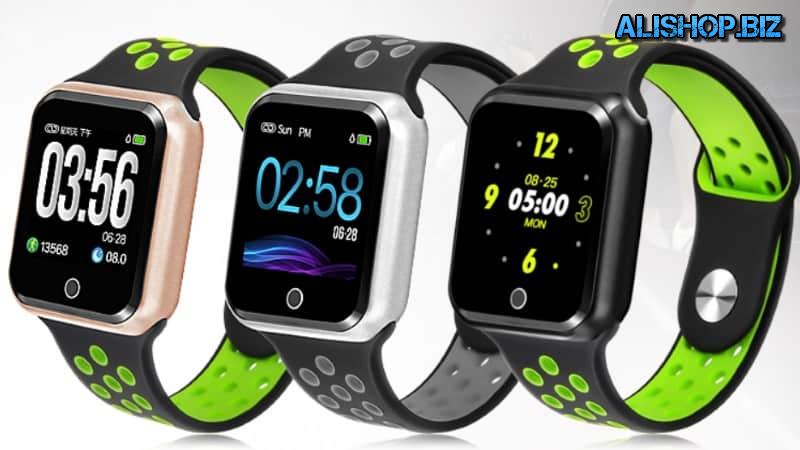 Another variant of hybrid fitness tracker and smart watches can also boast of a color screen and support for all major functions required for monitoring physical activity. Thus the device is able to recognize a kind of exercise that is distinguished by the running of the bike ride. Support protection level IP67 allows you to use the device while doing water sports. The strap of the bracelet is covered with holes that improve water abstraction.
Price: – $20.67 | buy |
Fitness bracelet Huawei Honor Band 4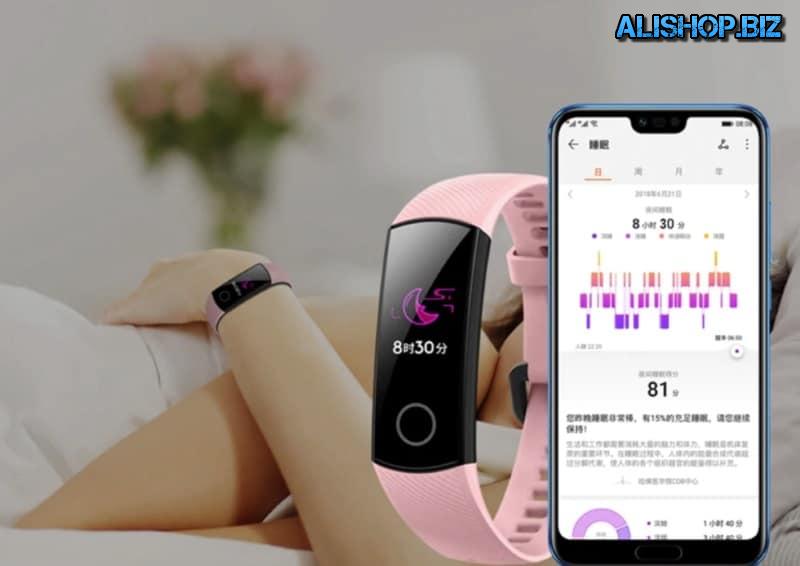 Also in this collection should mention the model from a reputable manufacturer Huawei. Honor Band 4 has a color AMOLED-display diagonal of 0.96 inches. A set of capabilities for monitoring includes everything you need to monitor heart rate, calories, steps and sleep duration. Depending on usage the battery life ranges from 6 to 14 days. Thanks to the good moisture protection, the bracelet can be used in the pool.
Price: – $28.99 — $41.72 | buy |
Protected bracelet LEMFO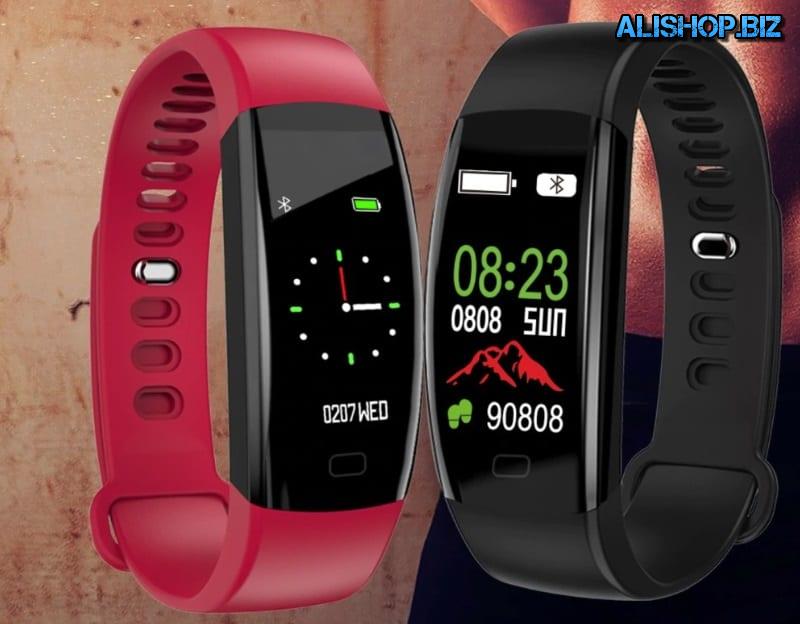 Other bracelet brand Lemfo stands out for enhanced protection of the shell which corresponds to the level of IP68. It has a good battery 90 mAh that provides up to weeks of work in active mode. In addition to cardiac rhythm, the device is able to determine the level of pressure and saturation of blood with oxygen. Diagonal color display 0.96 inch. The color of the strap you can choose from 5 available options.
Price: – $13.62 — $18.62 | buy |
The most popular fitness bracelet Xiaomi Mi Band 2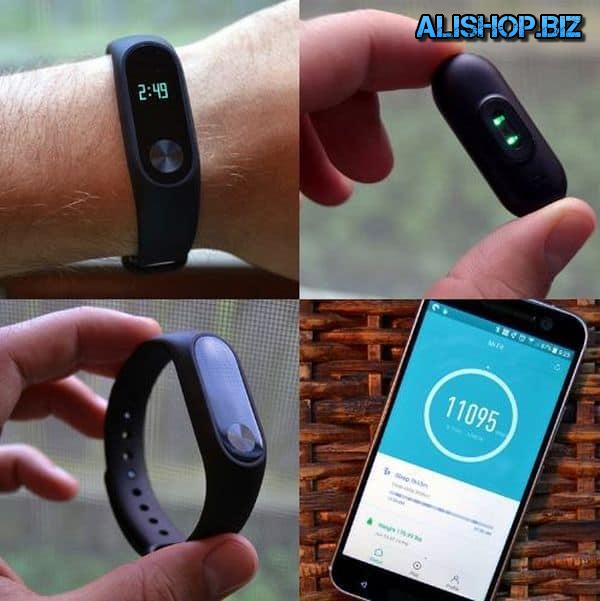 The absolute bestseller, a fitness bracelet Mi Band Xiaomi 2, no wonder enjoys wide popularity, because the developers managed to combine in this device great design, high quality workmanship and high functionality. Among the latter, in addition to the traditional counting of steps and calories burned, you should allocate the built-in sensor to measure heart rate. But smart alarm clock this buy no. However, with active Russian-speaking community of users of the tracker, this and other small problems are easily solved.
Price: – $27.99 | buy |
Stylish fitness bracelet Makibes ID107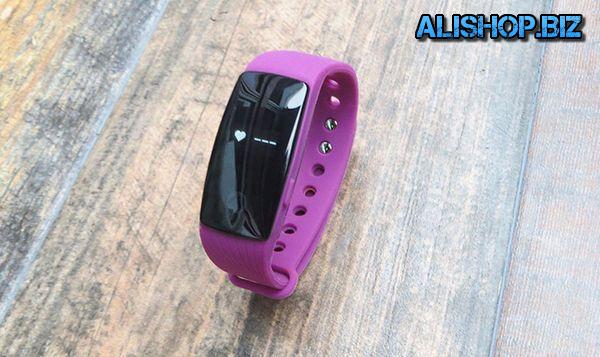 Device Makibes ID107 able to do everything that is usually peculiar fitness bracelets, which means it can measure heart rate, calculate distance traveled and track the quality of sleep. In addition, it can be used as remote control to remote control the camera of your phone or as a keychain-potereiko. Watch as well all the notification calls are available on a relatively large monochrome screen. Various options interchangeable colored straps will look with this bracelet by hand colourful and individually.
Price: – $18.19 | buy |
Updated Xiaomi Mi Band 3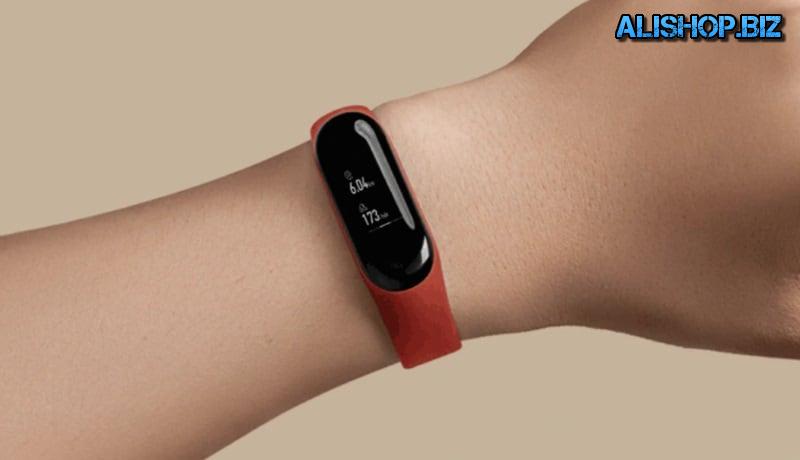 Compared to the previous generation, the new Xiaomi Mi Band 3 has an updated design, as well as double the screen diagonal of which is now 0,78 inches. And technical innovations of note is the presence of NFC chip, and support for more recent Bluetooth standard 4.2. The capacity of the installed battery has also been increased to 110 mAh, but the battery life remained at the level of 20 days. Protection class housing now complies with level IP68.
Price: – $24.99 — $29.29 | buy |
Bracelet watch TimeOwner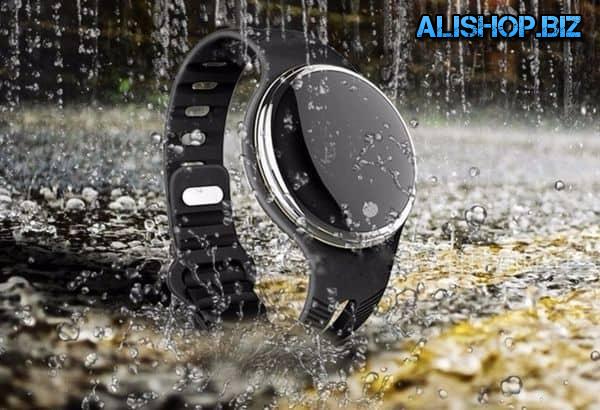 But the device TimeOwner is more of a smartwatch with the capabilities of titans tracker, as evidenced by the presence of a large round display with touch screen, on which you can not only learn the current time, but to get the full report on physical activity and notifications of SMS and calls. Like other similar devices, TimeOwner equipped with protection against water according to IP67 standard, and charge built-in battery lasts him for 3 days of intensive work.
Price: – $22.39 | buy |
Bracelet with determine activity IWOWNFit i6 Pro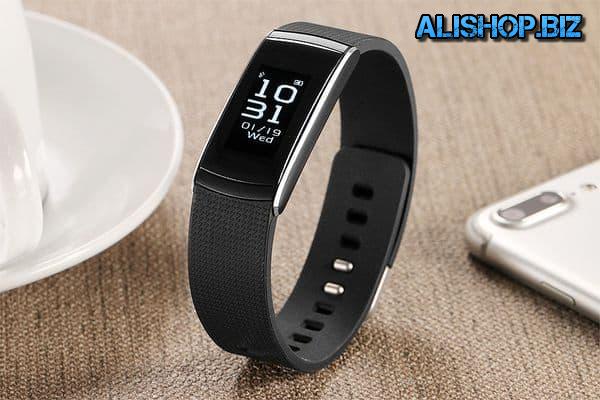 Physical activity is not only footsteps and running, but also Cycling and ball games. Bracelet IWOWNFit i6 Pro differs in that it can determine what exactly is the owner trying to burn more calories. Also, the device boasts a large screen, which with the help of large numbers or the dial displays the time and allows you to read SMS, without removing the phone. Like other models from this collection, IWOWNFit i6 Pro is able to measure the pulse, and protected from a large drop of liquid.
Price: – $34.99 | buy |
Tracker with switchable display mode SMA BAND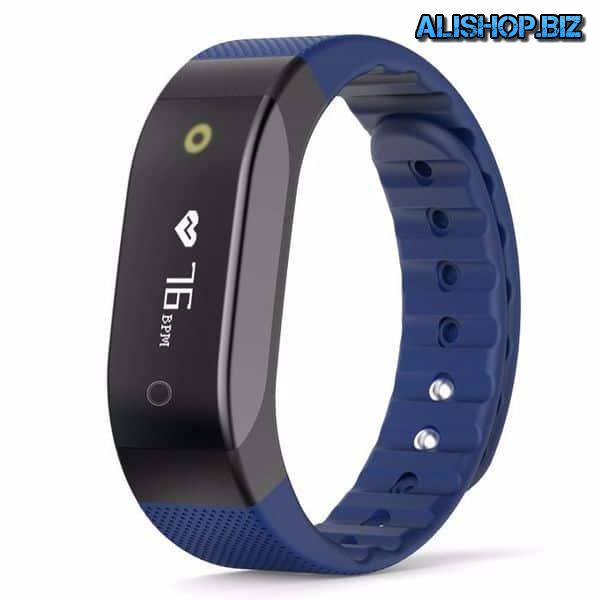 Like its competitors, sports tracker SMA BAND offers the most complete list of functions, typical for this class of devices, comprising: measuring the number of steps taken, heart rate, and vibropiling, which allows in the morning is the most comfortable out of the sleep state. An interesting feature is also the ability to display information on the screen in horizontal and vertical mode.
Price: – $27.66 | buy |
Bracelet with color screen Lerbyee C1Plus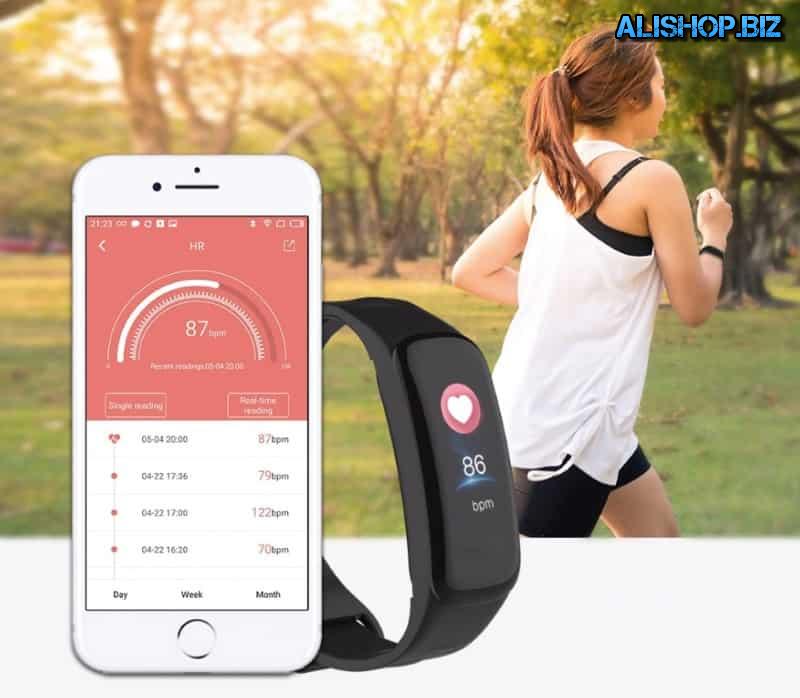 Despite the reasonable cost of the bracelet Lerbyee C1Plus, he has at least one important advantage over more expensive models. Here have a colour OLED display, which displays data about heart rate, number of steps and calories burned. Also, the device is capable of tracking your sleep time and to work as a wireless remote control of smartphone camera. Working time in standby mode is up to 3 days.
Price: – $12.59 | buy |
Fitness watch sensor blood pressure CK11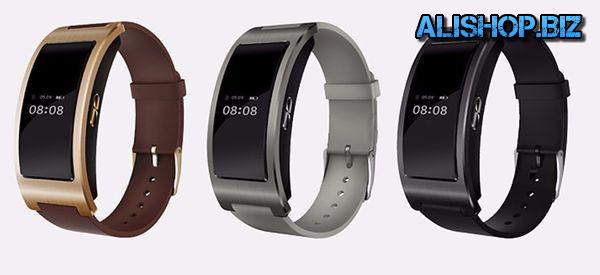 Another smart watch from our selection are not only respectable appearance, and a unique technician opportunity: in addition to heart rate, they can also measure blood pressure. Otherwise, the device repeats possible analogues, that is designed for daily monitoring of energy expenditure. CK11 also, the manufacturer claims that on one charge the watch can work for about 2 weeks.
Price: – $22.87 | buy |