20 reliable holders and tripods for camera with Aliexpress
To obtain really high quality shots and videos, especially in low lighting conditions, you can certainly do without a tripod, but not the full experience of the hand of the average user, this accessory is vital. In this collection we have collected 20 reliable holders and tripods for photographic equipment from Aliexpress.
A tripod with flexible legs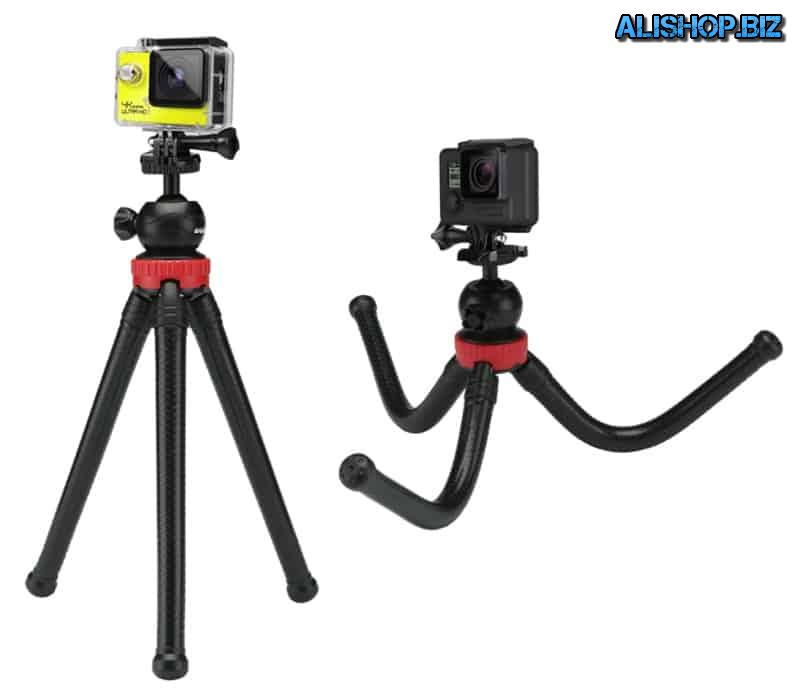 A device for stabilizing GAQOU belongs to the category of portable racks that are convenient to take on trips. For installation on surfaces and objects in the environment (fences, pieces of furniture, branches) used here is the 3 flexible legs that are protected from the adverse effects of water. With weight of tripod 300 grams, maximum load it can take up to 2 kg. Mounting of devices is performed using standard threaded fasteners.
Price: – $10.76 — $11.19 | go to the purchase |
Portable tripod Octopus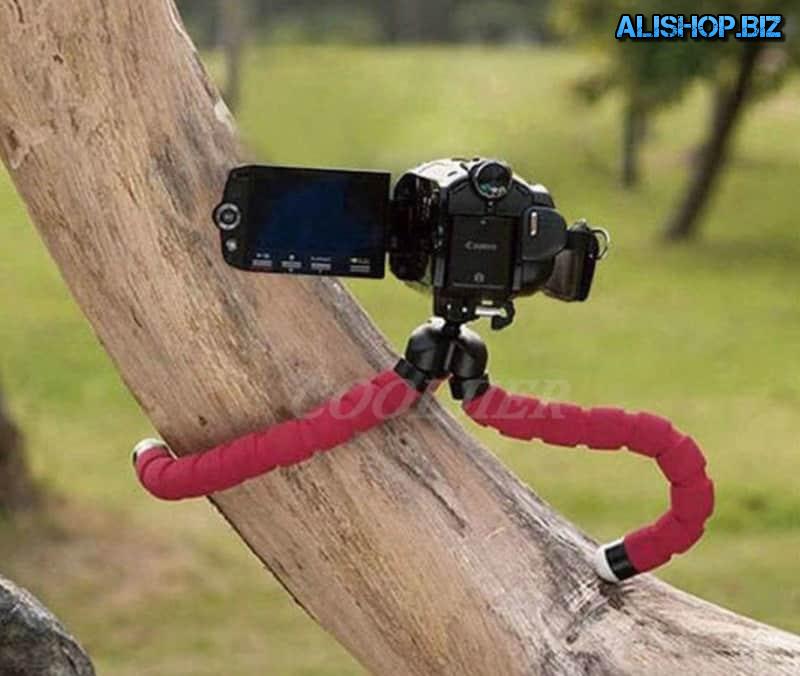 The 3 very flexible legs tripod Octopus is the best solution for mounting photographic equipment to branches, poles, fences, as well as for its installation on a flat surface. The small size of such a device should be attributed to the obvious advantages, because it is convenient to take with you on trips. Universal screw mount allows mounting on a tripod fotogallery, smartphones (with an adapter), and action Cam.
Price: – $1.81 — $3.74 | go to the purchase |
Tripod telescopic legs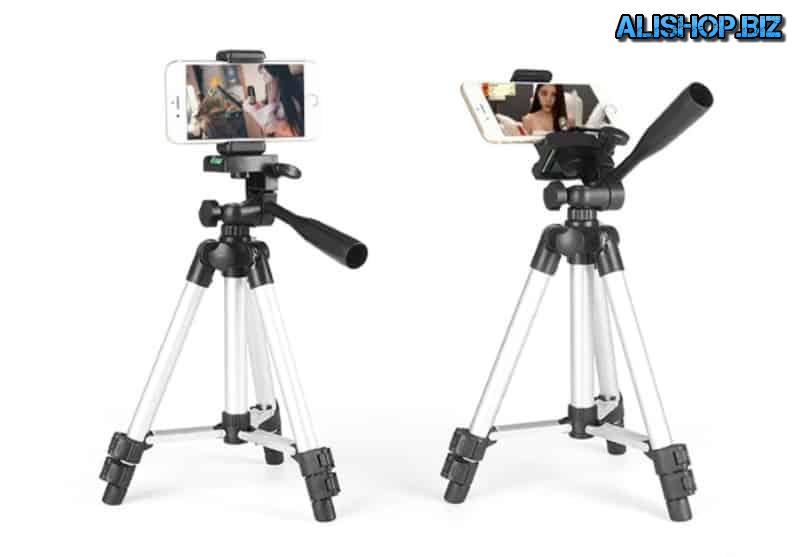 Classic tripod with 3 telescopic legs capable of being extended to a height of 106 cm when folded, it rises above the surface to 36 cm built-in handle allows you to conveniently change the position of the installed camera or mobile device. For fixing uses a standard thread that is compatible with an impressive list of modern technology. The maximum weight that this tripod is designed is 2.5 kg.
Price: – $8.93 | go to the purchase |
Mini tripod "Spider"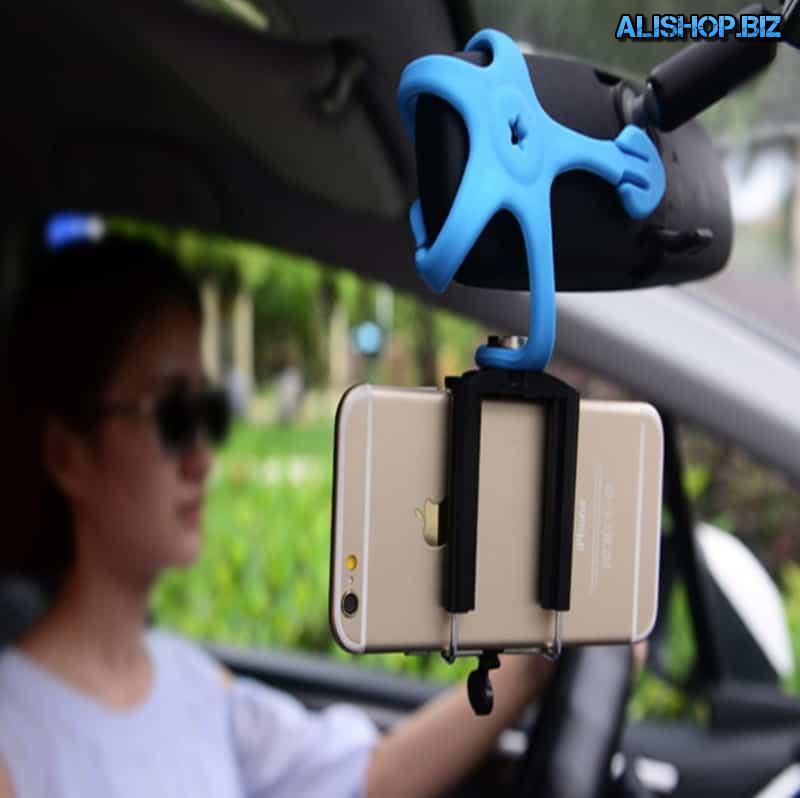 Device "Spider" is a very compact and simple stand designed for the installation of mobile gadgets and tiny cameras. One of the "legs" of the mount has a hole for the mounting, and the other 4 perform the role of supports. The legs are very flexible and can be used for attachment to various objects. Their rough surface provides a secure contact with any surface.
Price: – $3.19 | go to the purchase |
Professional tripod Zomei Q111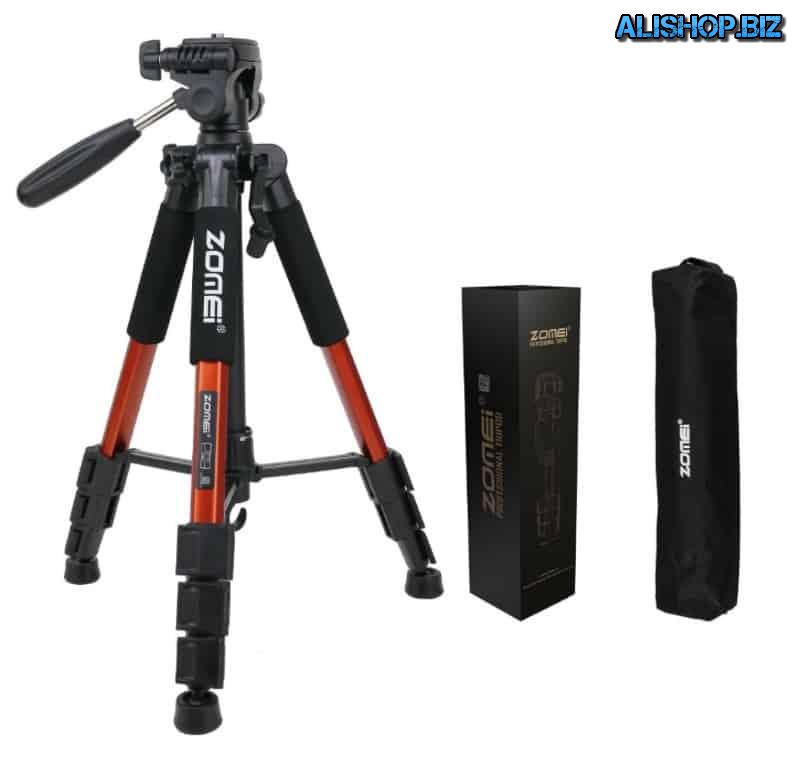 Zomei Q111 tripod, which can be attributed to the professional level accessories for photography. With 3 telescopic legs of aluminium, each of which consists of 4 sections, it's easy to lift to a height of 145 cm to Install any equipment weighing up to 5 kg. At the same time the tripod weighs only 1.2 kg. Handle position adjustment allows you to change the position of the camera in a smooth motion. To protect from sliding the legs of the tool is covered with rubber.
Price: – $30.26 — $31.02 | go to the purchase |
Tripod MEFOTO 2 in 1 MK10
Multifunction tripod MEFOTO MK10 is a combination of 2 popular devices for taking pictures. When folded — is a convenient monopod for selfie. If you divide it, the handle on 3 legs, he has successfully fulfilled the role of a portable tripod that is compatible with the phone (via the adapter), and action cameras. The maximum altitude at which they can be raised, is 85 cm
Price: – $17.76 — $18.72 | go to the purchase |
Tripod BEXIN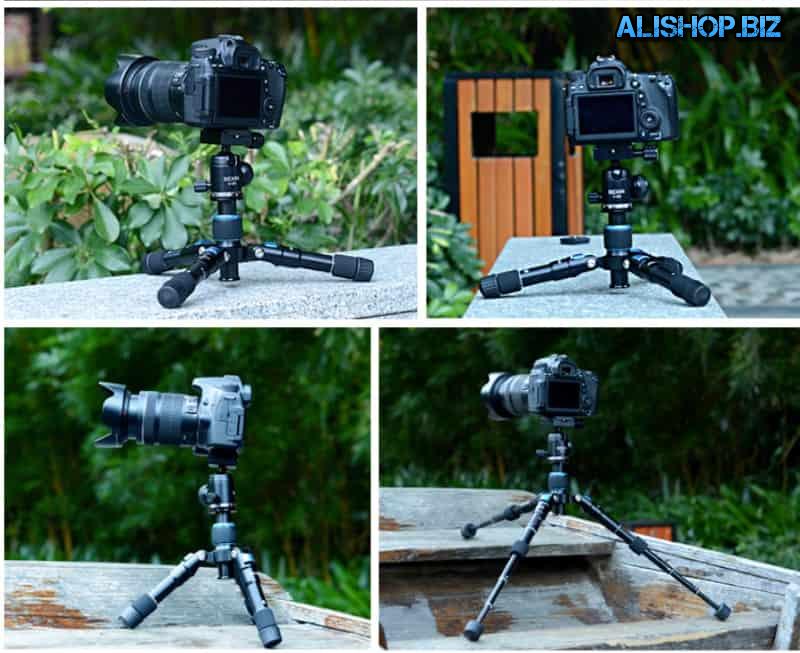 For the manufacture of advanced tripod Bexin used aluminum alloy, and therefore its own weight is 730 grams. To install any equipment that does not weigh more than 5 kg tripod Max height — 48 cm, and when folded its length is 18 cm, making it one of the most portable in the collection. The angle of the support legs here is insist. Storage and transportation devices included with it a cover.
Price: – $40.50 – $45.90 | go to the purchase |
Flexible tripod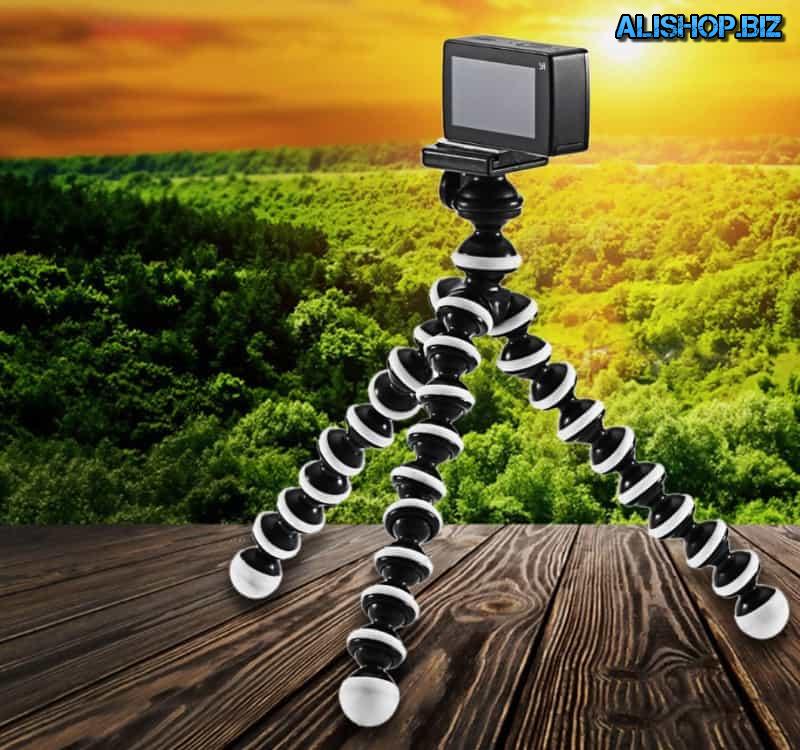 The design of this portable tripod whose legs consist of many plastic joints, reminiscent of previously mentioned "Octopus." This device is also optimized for installation of small devices for shooting photos and videos. Secure the tripod can be dozens of different ways, using any nearby support. The small size make it convenient to carry the device in fotosumka and backpacks.
Price: – $3.49 | go to the purchase |
Foldable stand Ulanzi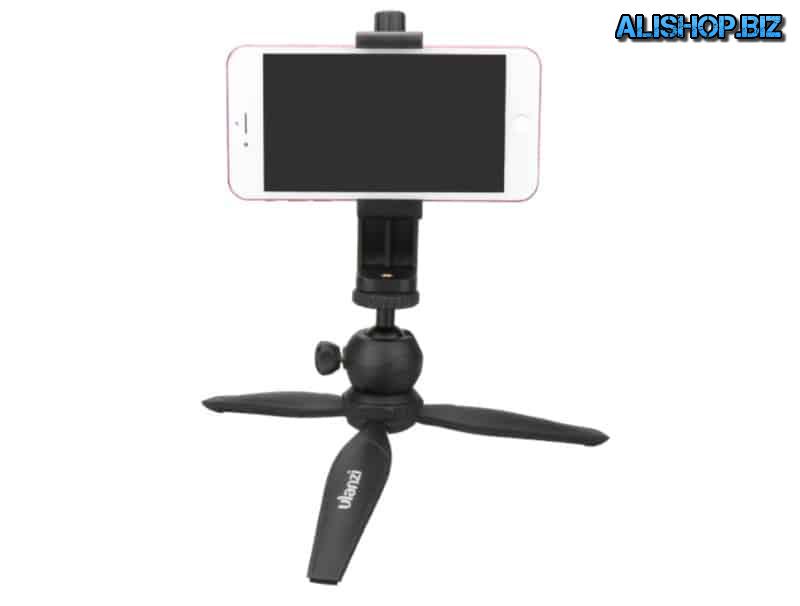 Advantages of miniature tripod Ulanzi versatility and ease. With folded legs, he is a good option of a monopod. The use of a special clamping adapter allows you to install on the device mobile gadgets width from 5.8 to 10 cm to Use them for shooting photos and videos both in horizontal and in vertical mode. The body of the tripod is made of plastic.
Price: – $3.54 | go to the purchase |
Tripod Weifeng WT-3110A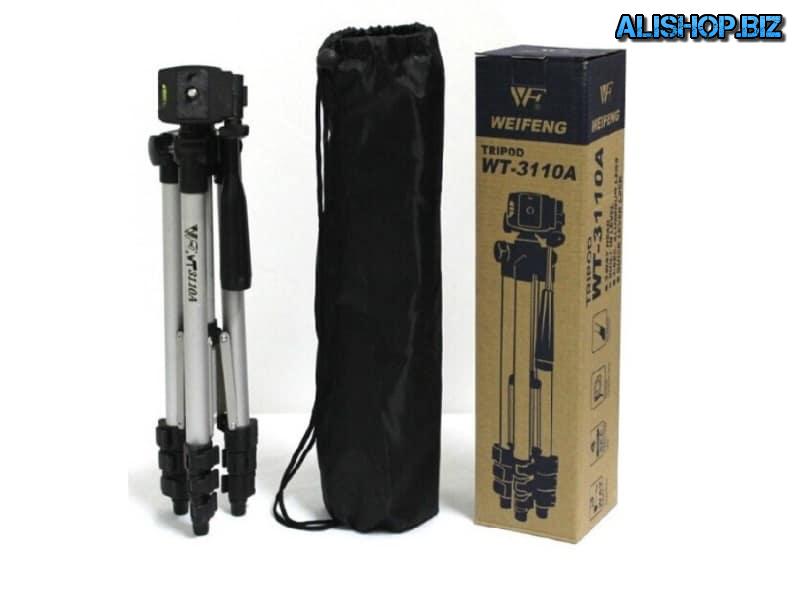 Tripod Weifeng WT-3110A can be recommended to beginners, whose budget for the purchase of accessories is very limited. With such fixtures equipment weighing up to 2.5 kg can be raised to a height of from 35 to 102 cm control is performed using 3 telescopic legs. On top there is a platform that is compatible with a huge number of SLR and mirrorless photography. For storing and carrying the tripod in a case.
Price: – $12.16 | go to the purchase |
Folding monopod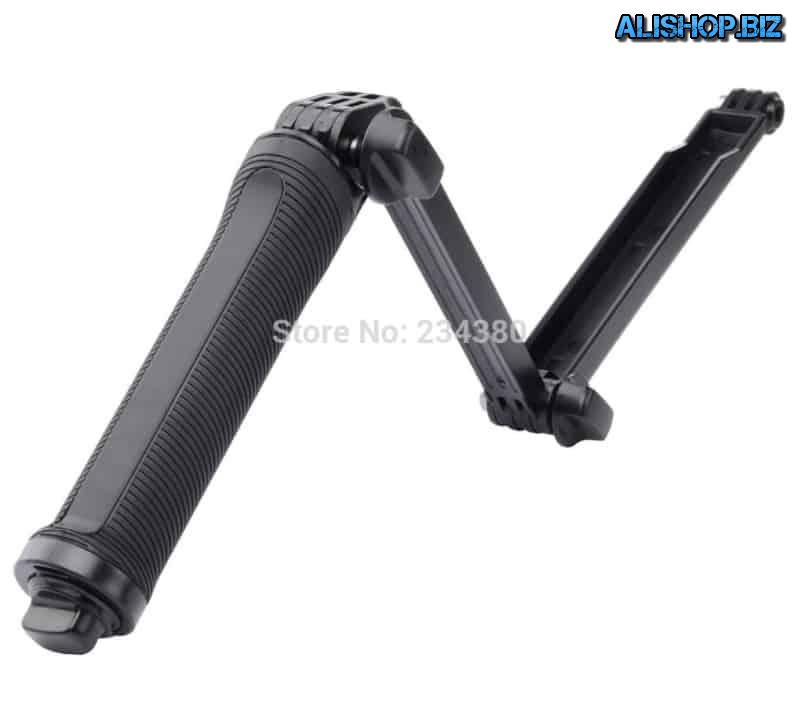 If not for the presence of the device 3 side of legs, it could be confidently attributed to the category of monopods. The design of the tripod consists of 2 joints, which unite 3 movable sections. Thanks to this feature, the position of the main arm with ribbed cover can be configured in a very wide range that allows shooting in the most unexpected ways. The package includes a lanyard for secure carrying on your hand.
Price: – $7.53 | go to the purchase |
Neewer aluminum tripod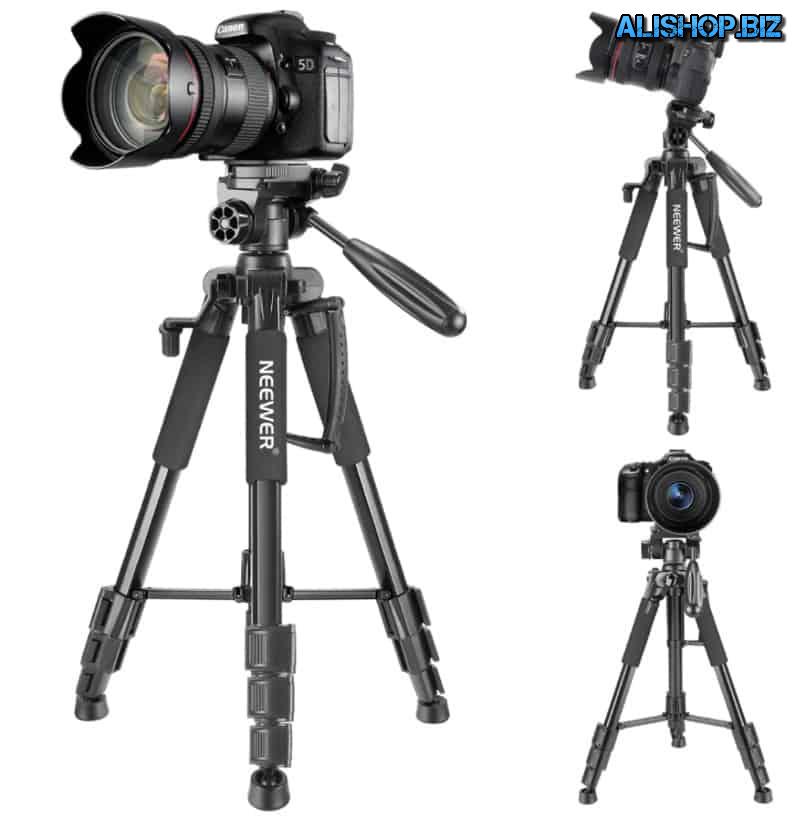 Powerful tripod Neewer whose telescopic props are made of aluminium, designed for installation of cameras weighing up to 4 kg. the maximum height of their ascent above the water-level is 142 cm In the horizontal plane, the camera or the camera can be rotated 360 degrees, and vertically 180. The legs of the tripod are covered with rubber which prevents it from slipping. To increase resistance, there is provided a built-in hook on which to hang additional weight.
Price: – $24.29 — $35.99 | go to the purchase |
Holder snake Voteer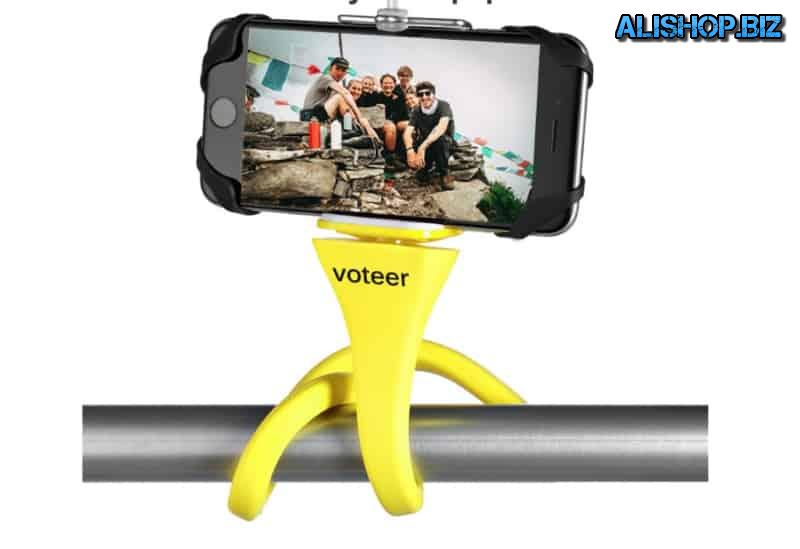 Holder Voteer, made in the form of a flexible snake, rightfully deserves the title of the simple method of stabilization of cameras from this collection. Leg there is only one, but due to the increased length of 42 cm, it perfectly wraps around railings, branches, rear view mirrors and bike frames. Interchangeable adapters allow to mount the device like smartphones and portable cameras to record action-Packed videos.
Price: – $14.22 — $15.26 | go to the purchase |
Universal tripod ASHANKS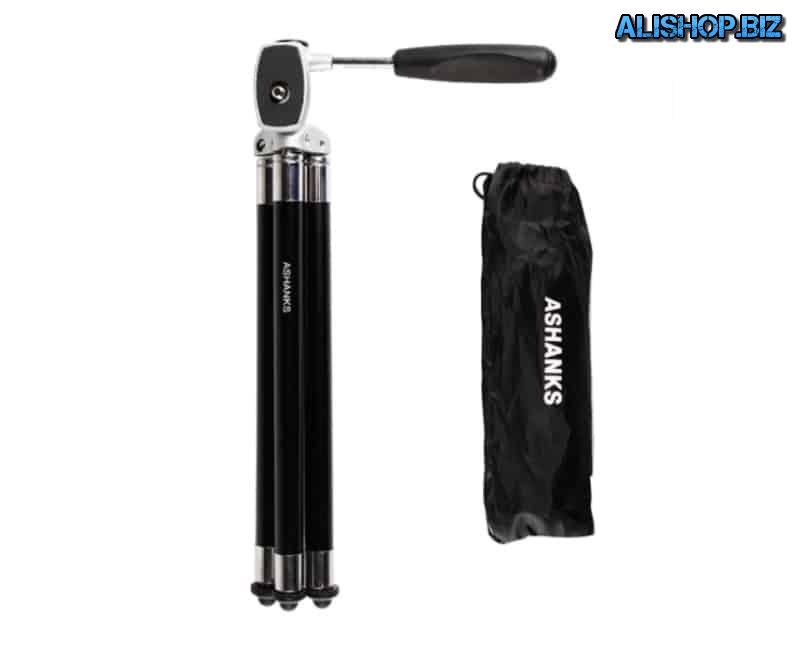 ASHANKS a tripod suitable for mounting as a mobile gadgets, and digital SLR camera entry-level, that is, is universal. The weight limit here is 3 kg. the Maximum height of the tripod — 102, see To adjust the position of the head in space it provides a comfortable grip with a built-in mechanism. Tripod legs made of steel tubes with a diameter of 15 mm.
Price: – $15.90 | go to the purchase |
Advanced Beike QZSD tripod Q999S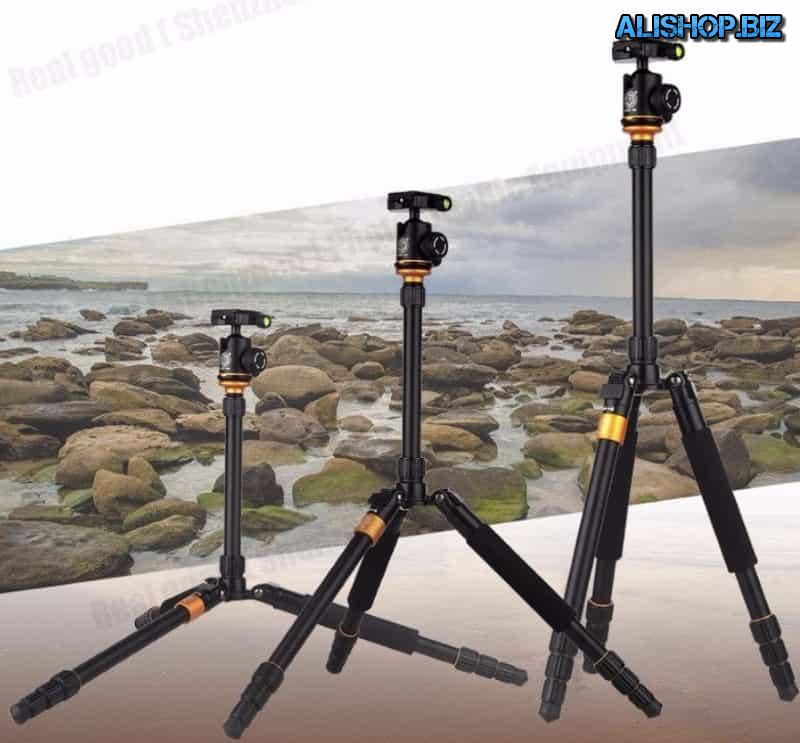 Beike QZSD model Q999S belongs to the category of professional tripods, and so its price is higher than the alternative models in the collection. For installation on the surface here there are 3 legs, the angle of which can be changed at their discretion. For hanging the additional weight has a built-in hook. In addition, the fixture easily converts into a monopod. In the kit this tripod included a convenient carrying case.
Price: – $50.88 | go to the purchase |
Tripod carbon fiber Innorel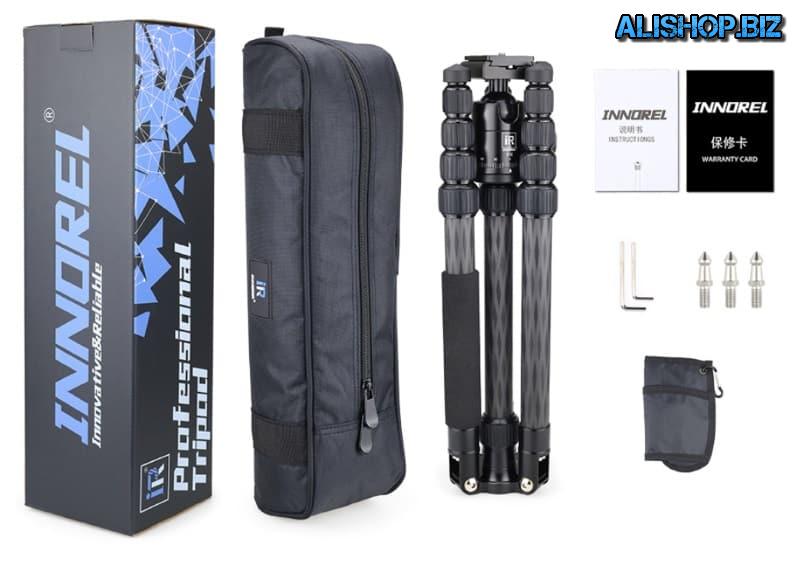 As for making professional tripod Innorel RT55C was used the combination of sliding carbon fiber supports and aluminum parts, it was easy, reliable and expensive. The maximum load that can withstand this tripod is 12 kg. Due to the design consisting of 5 sections, the maximum height of the fixtures is an impressive 161 cm storage rack kit with it included a very convenient handbag double zipper.
Price: – $115.02 — $144.72 | go to the purchase |
Sturdy tripod Miliboo MTT601A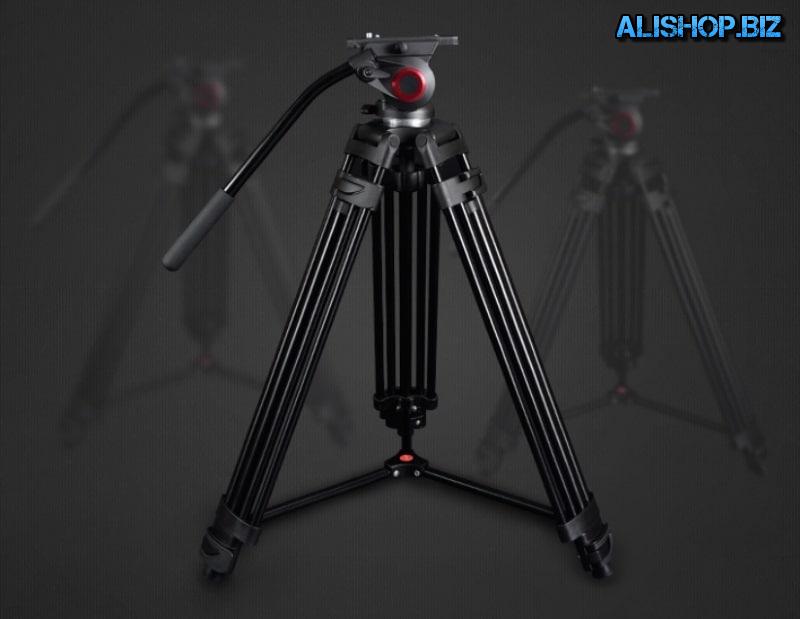 High stability the tripod gives Miliboo MTT601A its unique design, consisting of a set of aluminum tubes, each of which has a diameter of 99 mm tripod Height adjustable from 76 to 153 cm it can Set any camera weight not exceeding 10 kg mark With a long handle, the equipment can be rotated 360 degrees in the horizontal plane. Vertical angle varies in the range of 90 to -70 degrees.
Price: – $143.10 | go to the purchase |
Miniature tripod made of aluminium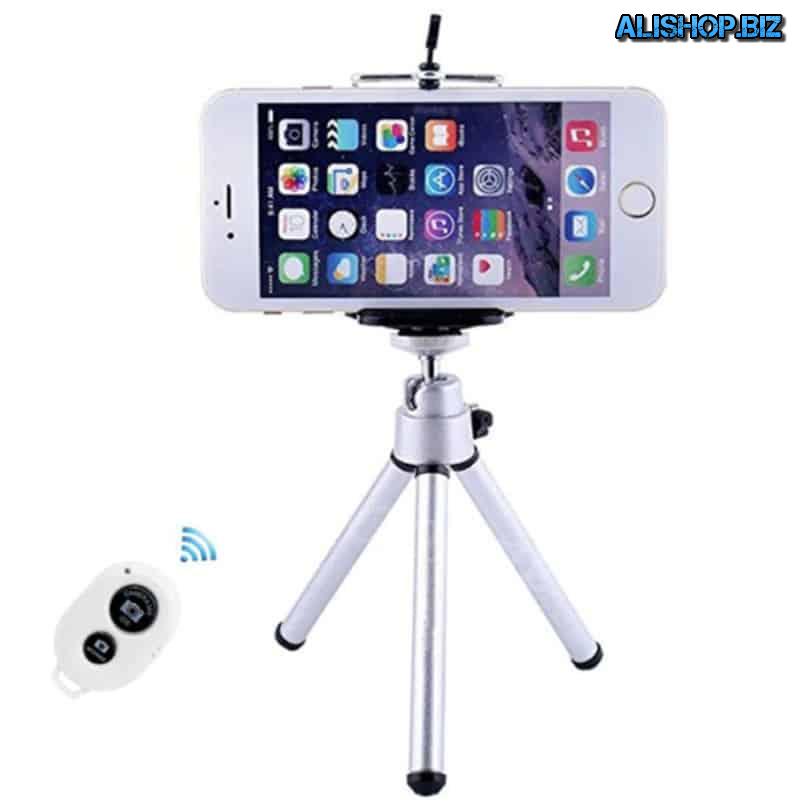 This compact tripod COOLJIER combines small size and high degree of durability guaranteed by the use of aluminum, which is made telescopic legs. The main purpose of fixture is to install a smartphones, but a threaded attachment suitable for mounting other types of portable equipment. Basic tripod height — 14 cm In the unfolded state, it reaches 20 cm.
Price: – $1.58 — $3.48 | go to the purchase |
Tripod Xiaomi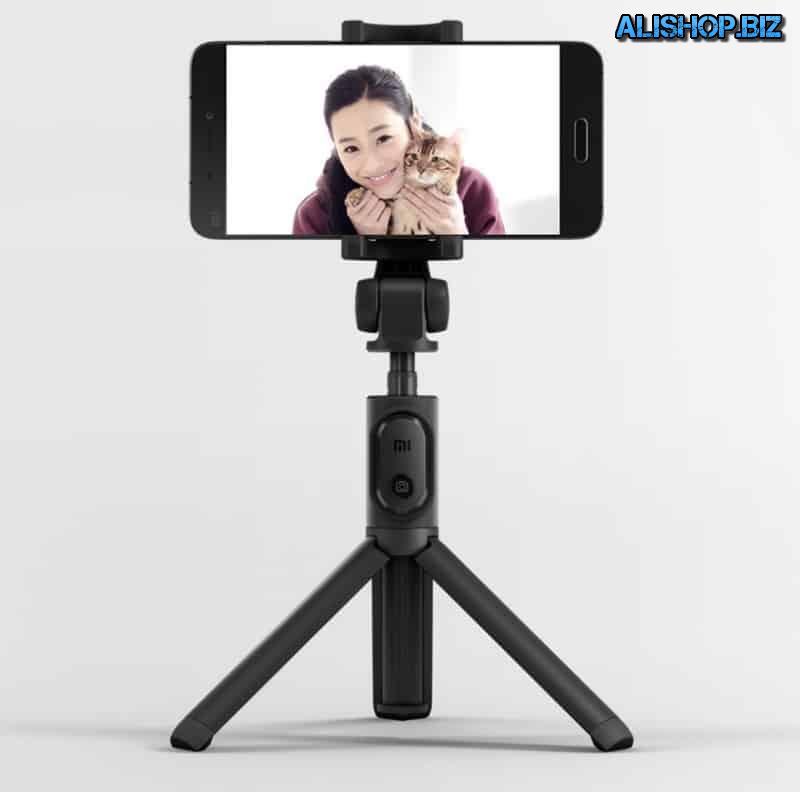 The new product from Xiaomi has been successfully combined the functions of a selfie stick and portable tripod. Switching between these States by using the folding legs, consisting of 3 petals. The length of the fixture ranges from 19 to 42 cm In case there is a hole to embed a wireless remote, operating on channel Bluetooth. Built-in adapter compatible with smartphones with a width of the body 56-89 mm.
Price: – $19.71 | go to the purchase |
Lightweight tripod GAQOU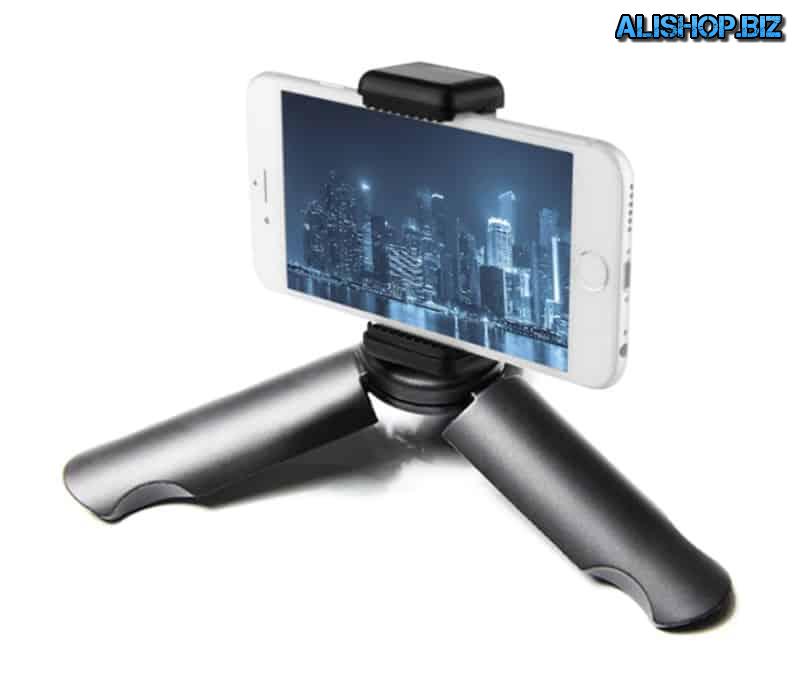 Simple design portable tripod GAQOU allows you to use it as a low stand providing excellent regulation of portable gadgets, including smartphones and action camera. For installation on surface used here is 3 feet wide, and mount mobile devices by means of a special holder. The own weight of the tripod with the adapter is 50 grams.
Price: – $2.76 — $4.14 | go to the purchase |