Tool bag in several sizes
Price: — $22.71 – $44.01 | go to purchase |
Some time ago I was looking for a non-rag tool bag. Tired of walking with a rag, uncomfortable, constantly need to rummage in it to find the right tool. And the bag itself was losing its appearance, the bottom was pulling down heavy iron. Shopping did not give anything worthwhile. He felt WORKPRO and a bunch of others – all about the same, differing only in the design and quality of the fabric.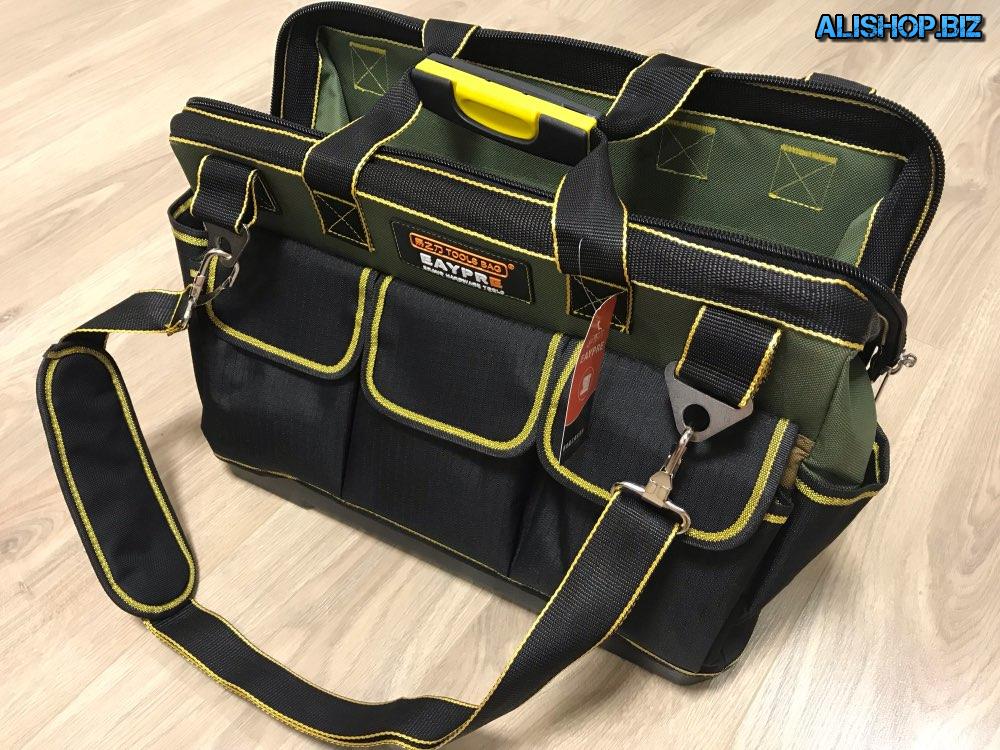 As a result, I had to spend a little money and buy an "expensive" (amid all WORKPRO) bag with a plastic bottom. To be honest, knowing that we have winter for 9 months, then I was afraid that in winter the bag would collapse at the first fall. Sealing up – I thought, and even slowly tried on plywood, which would put on the bottom (if all the same crack plastic). But I will say that nothing cracked in the fall at -5 degrees, or in December at -20 degrees. And if in the fall I just dropped it from my shoulder, then in the winter I slipped and "threw the bag".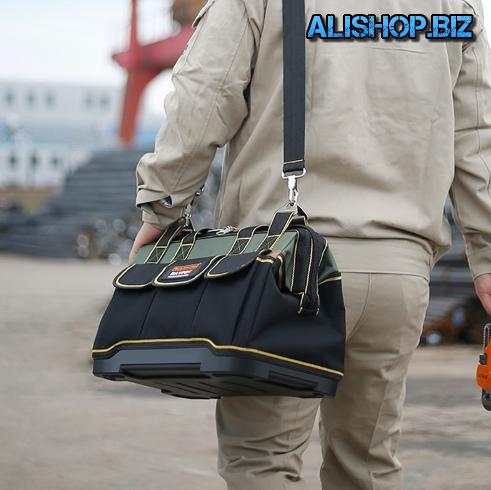 In addition to the plastic bottom, inside the fabric there are also thin plastic inserts, they set the stiffness / shape and the bag came crumpled. I filled her with pillows for a day and she recovered. On load: 10-20 kg holds perfectly, but if you carry this load on your shoulder, you can see how the bottom tilts (as the diagonal mount) and it is recommended that you evenly distribute the load by the handles in your hand). But I carry over my shoulder – it is more convenient for me.
If you fill the bag with something "for the most tomatoes" – it will not close, but if I fill it so, I don't get it, and I just throw it in the trunk. I liked the side compartments with the velcro, I had a crowbar and electrical tape, 2 boxes with gaskets, very quickly and easily "opened and pulled out". One Chinese box sent as a gift. The side also pleases, does not occupy space (I wear rarely used things there), but there is one drawback – it is inconvenient to get voluminous things if the bag is closed, but these are "little things" to be honest, since the same gloves come easily.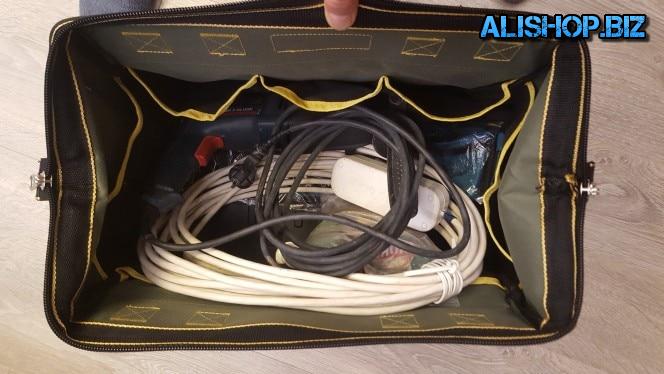 The inner pockets are "flat" if empty, and if you put something "big" – they eat up the place and stick out, I have end keys, a folding knife, scissors and other trifles (well, I also selected a roulette to not look its in the instrument ).
Price: — $22.71 – $44.01 | go to purchase |