A collection of 20 ideas, romantic gifts from Aliexpress
Ahead of Valentine's Day and 8 March. The majority of the male half of the population, the question arises: "What to give these days?" We did a little work for You and selected 20 of the original gift, which can be expensive to buy on Aliexpress and solemnly present its second half. Just need to book in advance without waiting for last day.
The soap set in the form of roses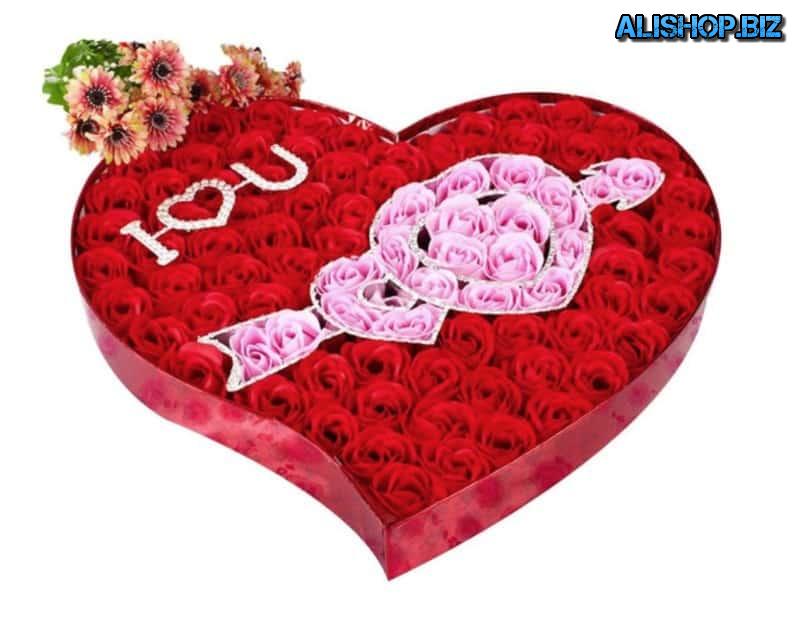 A gorgeous set consisting of a plurality of pieces of soap, made in the form of delicate roses is a perfect gift for any romantic wire. All "flowers" Packed in a large box in the shape of a heart and decorated with the words I love you, made of many shiny stones. In addition, part of the "roses" here has a different color. Of them in a box lined with an image of a heart pierced by an arrow.
Price: — $23.88 | go to purchase |
Love The Necklace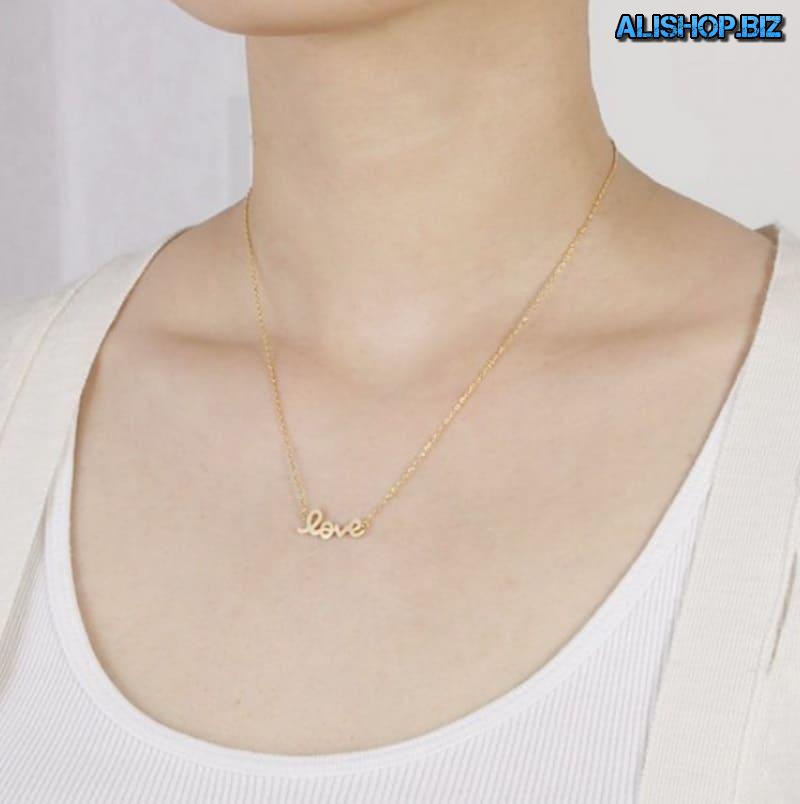 Pendant, made in the form of inscriptions Love, this is the most simple and concise way to curl about his feelings. On the neck decoration is attached with a thin chain. It is made of zinc alloy, but is available in Golden and silver color. Affordable price of the pendant allows you to buy several of these and change them depending on mood. The dimensions of the product is 2 x 0,8 cm can Wear it with almost any clothes and almost do not depend on reason.
Price: — $1 | go to purchase |
A set of rings "King and Queen"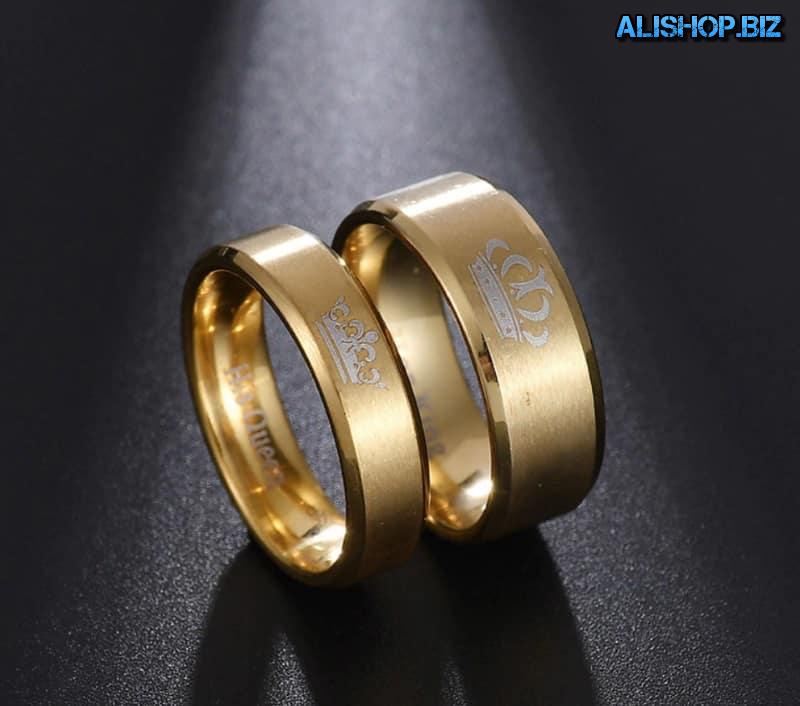 Ring from the "King and Queen" includes 2 jewelry for fingers with different sizes. More sleek and slim designed for women's hands, and a solid fat — for men. Both rings are decorated with the image of a crown. The cost of such accessories minimal since they are made of stainless steel. Among the available color options are offered silver, black and gold.
Price: — $0.46 — $0.98 | go to purchase |
The garland of hearts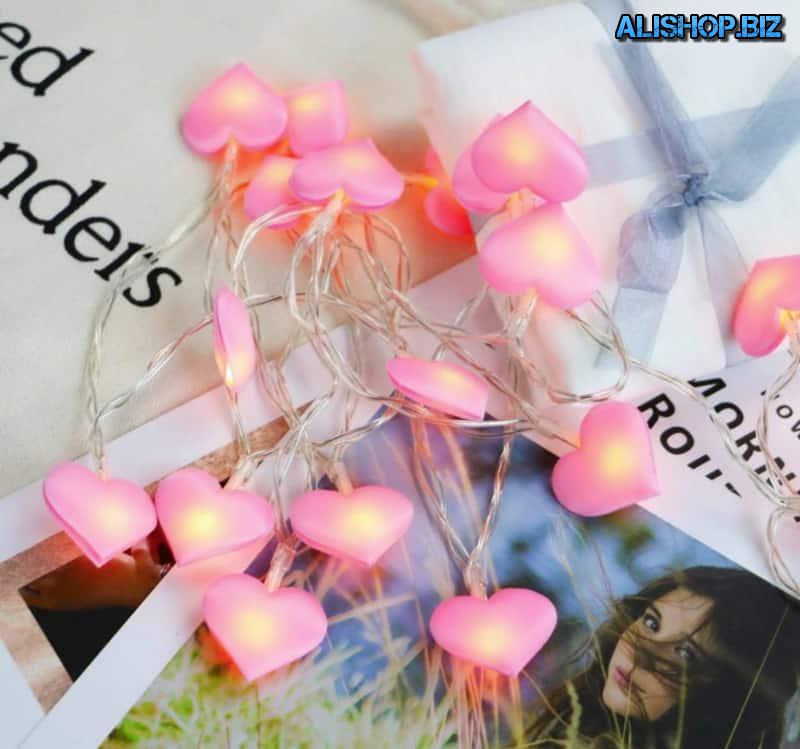 In addition to the balls, to decorate the room for the festive occasion, such as anniversary of wedding or relationship, you can use garlands. The LEDs on this, enclosed in translucent plastic pieces in the shape of hearts. Tape length is 1.5 to 5 meters. As the power source used battery pack from 3 AA batteries. Also available modifications with a USB connection and through a regular outlet.
Price: — $2.29 — $5.39 | go to purchase |
Gift box with roses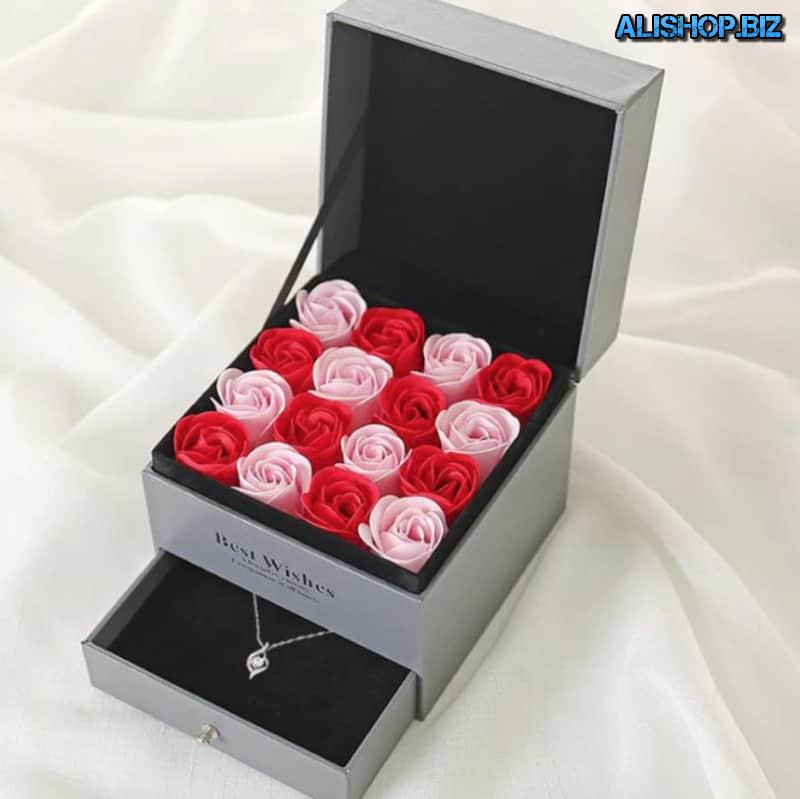 This product is also not a gift in the traditional sense, but is a nice package for him. In fact it is just a large cubic box, but the inside is decorated with artificial roses that you can put necklace, earrings, and other jewelry. In addition, a pull-out drawer, which can be used for the additional gift. Box is made of wood and has dimensions of 13 x 13 x 12 cm
Price: — $25.98 | go to purchase |
Romantic lamp "rose Bank"
Another ingenious option artificial plants for gifts is the rose in the Bank. The flower is located under the transparent cap size 22 x 8.5 cm and wrapped in garland for beautiful and soft light that looks especially good in the dark. The source of power for it are the 3 AA batteries located in a wooden base. Last, you can choose from 2 available options: dark and white.
Price: — $19.31 | go to purchase |
Ring box in the shape of a rose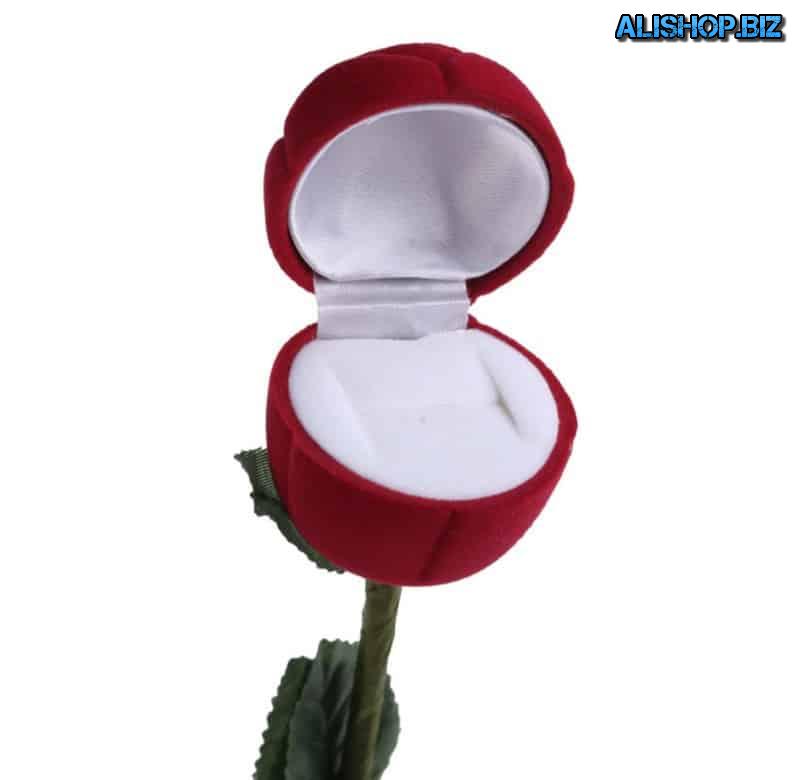 Offer of marriage — a serious step that it is best to furnish the most romantic way. One of the most important elements in this case is the box with the ring, which should appear in the most unexpected moment. Better suited for this artificial rose, in which the role of storage for jewelry performs a Bud with a diameter of 4 cm. Inside it has a slot, designed for fixing decoration. Total flower length 25 cm
Price: — $0.99 | go to purchase |
Pendant Best Friends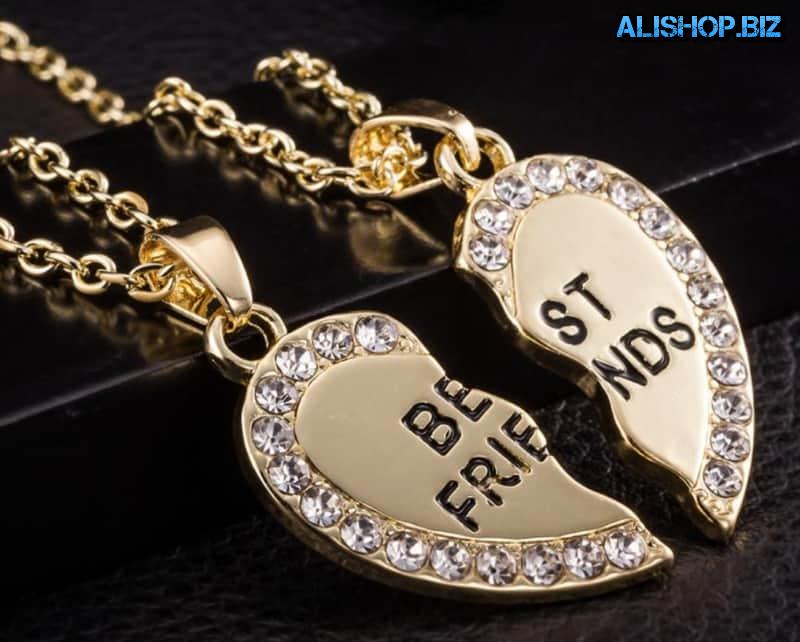 Not all relationships go in a romantic phase. For some it is more convenient to stay in the friend zone. This pendant consists of 2 halves is a heart with the words Best Frends. The perimeter of this ornament is decorated with a continuous next shiny stones. Each of the halves has an individual chain, that is, the pendant is suitable for 2 people. The product is available in Golden and silver versions.
Price: — $0.33 — $0.77 | go to purchase |
The set of pendants of lock and key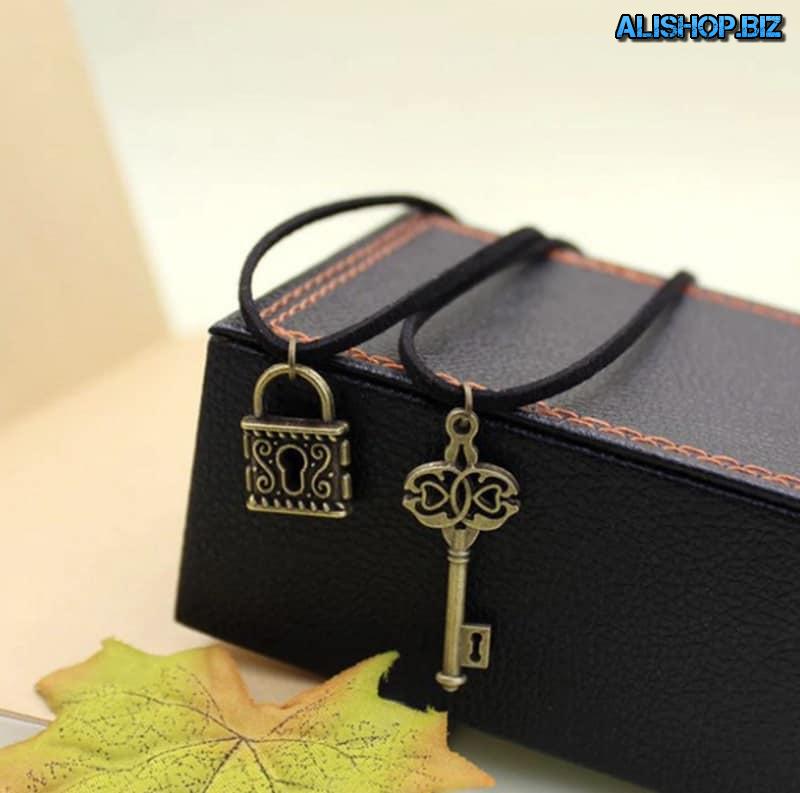 Set inexpensive jewelry, consisting of pendants in the form of a padlock and key, embodies the inextricable link 2 lovers in each other people. Both are made of inexpensive metal and mounted on a fabric cord, each of which has a length of 48 cm For fastening on the neck chain is used. Set from the lock and key will be a great gift for February 14 or any other memorable event in your personal life.
Price: — $0.89 | go to purchase |
3D-lamp "Romantic bear"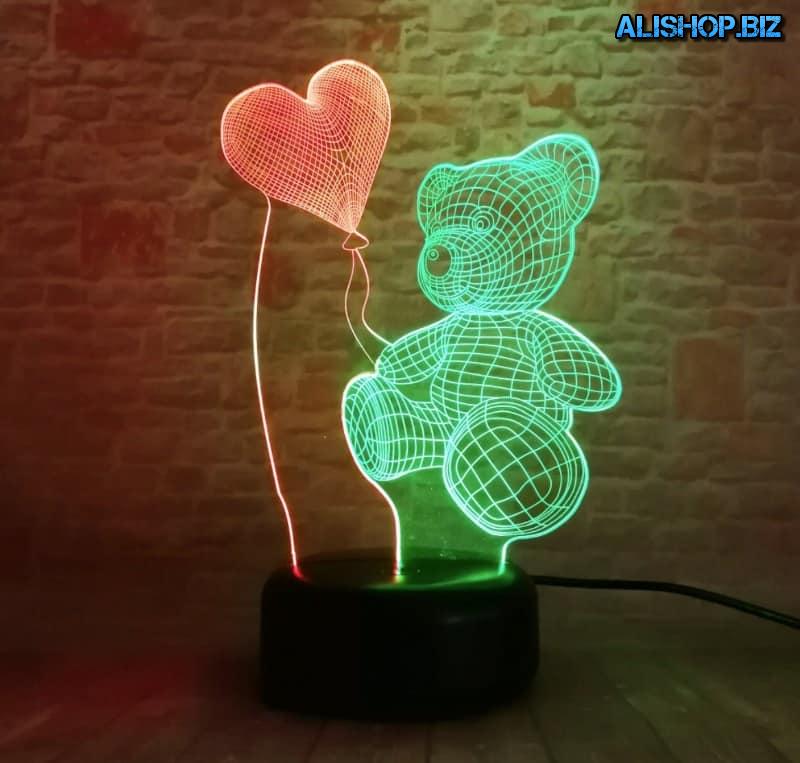 This lamp romantic component perfectly combines with high-tech performance. Although in itself, the fixture is flat and consists of a vertically mounted acrylic plate, but in the active state with multiple contours it appears 3D pattern in the form of a Teddy bear holding a balloon in the shape of a heart. The illumination color can be switched using the remote control between the 7 available shades. The device requires an external power supply or 3 AA batteries.
Price: — $12.96 — $19.99 | go to purchase |
Led nightlight in the shape of a heart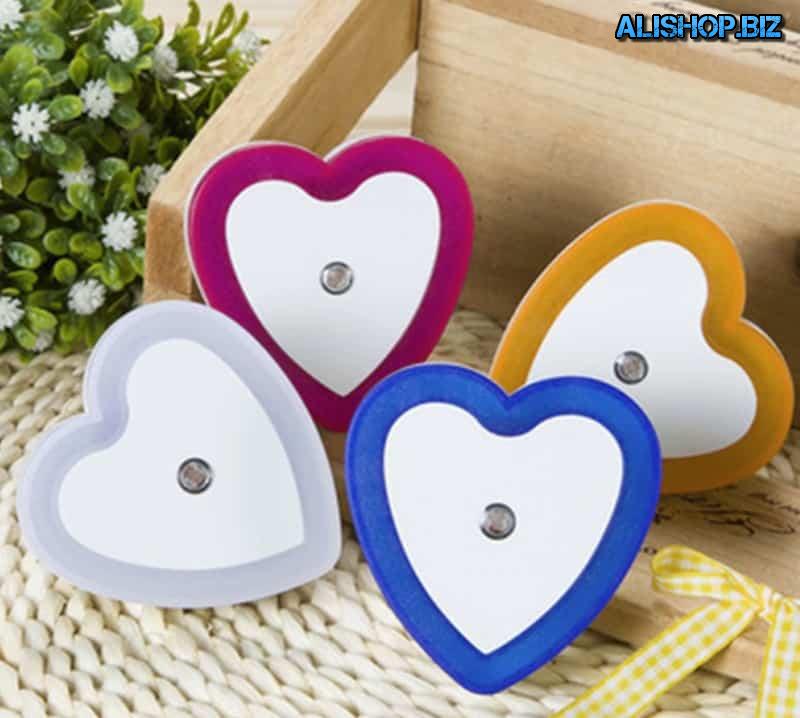 Another lighting device also has a romantic orientation, because it has the shape of a heart. A feature of this fixture is small in size, and the presence of integrated plug and built-in motion sensor. Thanks to the latter, highlighting the contour of the heart is activated only when it has a corresponding need. The maximum flow of light is 40 lumens, which is enough for a local night lights.
Price: — $0.98 — $1.11 | go to purchase |
Night light in the shape of a Lotus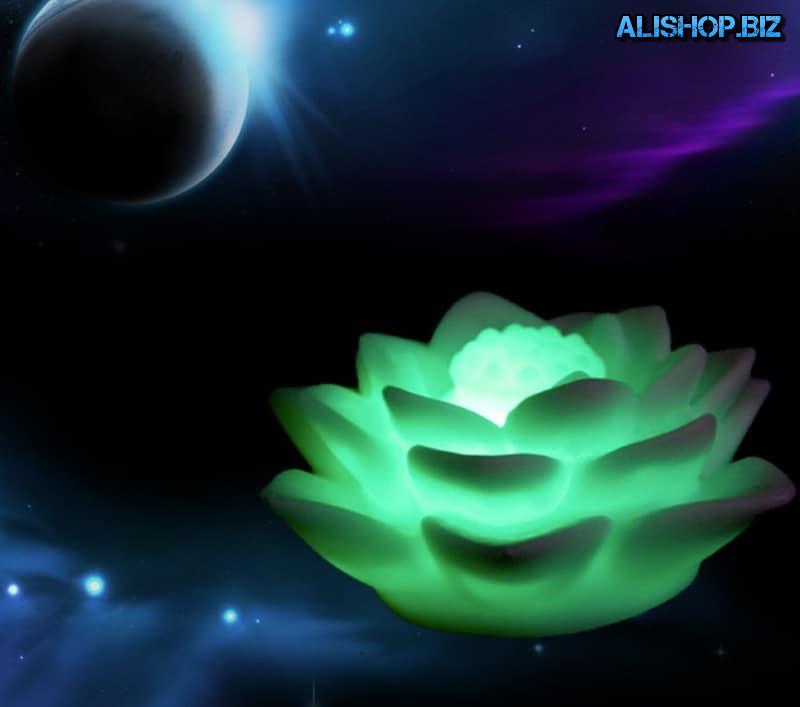 Not less romantic looks night light, made in the form of a Lotus. In the dark it glows with a soft light that creates a special atmosphere of coziness. The body of the fixture has dimensions of 4 x 4 x 5 cm and is made of vinyl. Feature of flower is smoothly varying with time the tone light, covering the main colors of the spectrum. The device runs on batteries and fits neatly on the nightstand near the bed.
Price: — $0.89 | go to purchase |
A bouquet of artificial lavender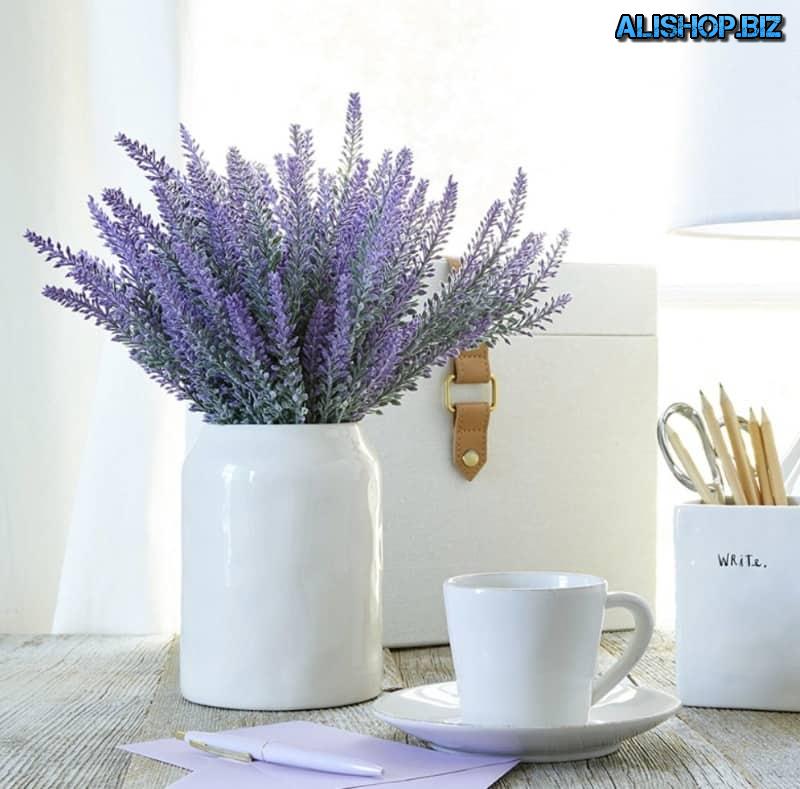 Although the natural aroma of lavender not to transfer with artificial flowers, they have a number of advantages over the real. Such a bouquet is not prone to drying and fading and hence longer it will be pleasing to the eye. In addition, each of the stems included in the set are made of non-toxic plastic odor. To create lush compositions it is recommended to purchase these flowers from 5-8. The length of any of them is approximately 35 cm.
Price: — $1.68 | go to purchase |
Ring with 2 hearts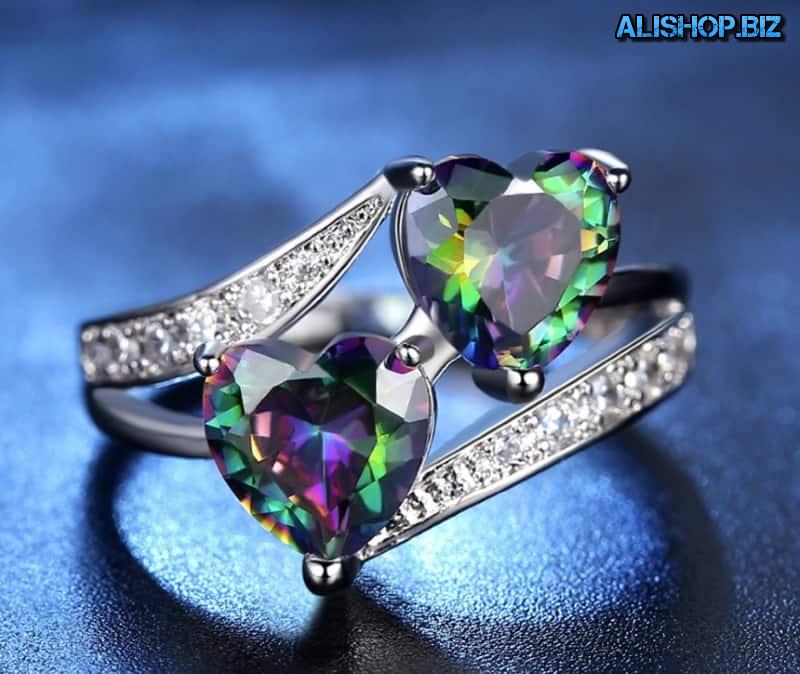 In our selection of jewelry is not enough room for one more great ring. About its romantic essence indicates the presence of 2 multi-color stones in the shape of hearts placed in a frame of silver metal. The product is available in 4 sizes and designed for women. For its inaugural award, it is appropriate to use one of the previously mentioned boxes. Give it for any reason, but it is better to do on Valentine's Day or March 8.
Price: — $1.67 | go to purchase |
Big romantic lamp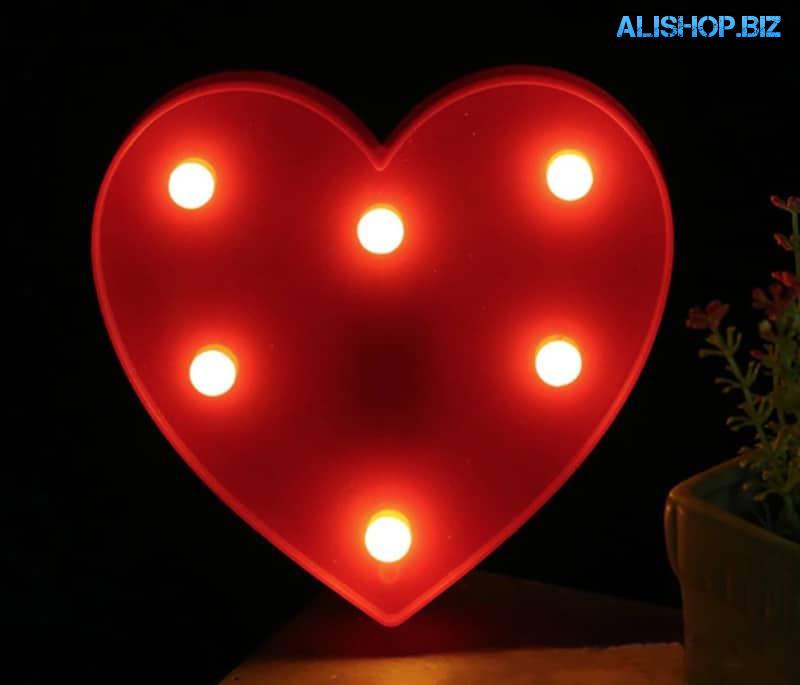 An alternative to the previously mentioned romantic lamps is a product made in the form of bulk heart. The light source here are 6 LEDs. Passing through frosted case with dimensions of 16.5 x 16.5 cm, the beams create a very soft and atmospheric lighting, which more than just appropriate in the bedroom. The device is battery powered and is equipped with a switch. There are 3 options for color of light: red, white and pink.
Price: — $2.94 — $3.64 | go to purchase |
Decorative bouquet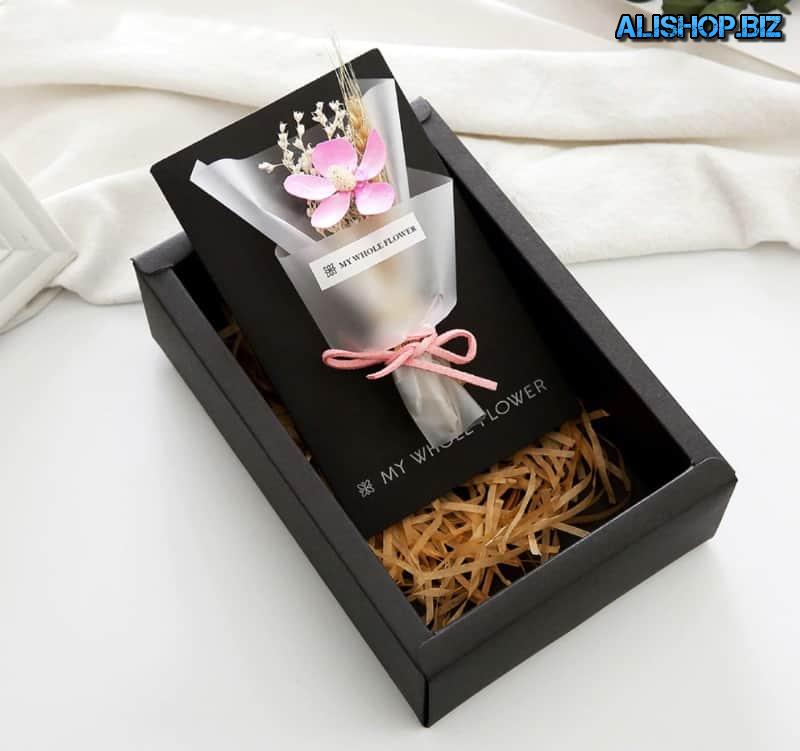 By itself, the decorative bouquet is not a separate gift, but it complements the more valuable things, like jewelry decoration. For the preparation of the composition there was used the natural plants that have been thoroughly dried before packing in tissue paper is a beautiful dark box. In addition, to use such a bouquet can be for decoration of the home environment, as well as to enliven workplaces.
Price: — $6.76 — $6.91 | go to purchase |
Artificial petals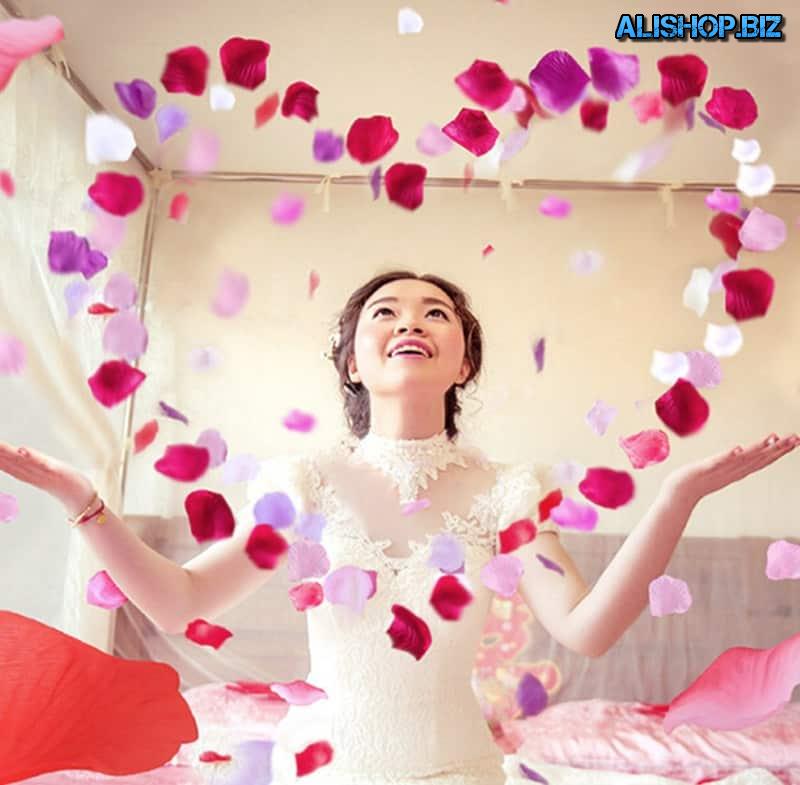 Create a romantic atmosphere help not only lamps, but also flower petals. While the best substitute to natural buds, are artificial. The size of each petal is 5 x 5.5 cm one set contains 500 pieces. Available in a choice of over 20 colors, which can be freely combined with each other to get the most dramatic effect. These petals can be sprinkled on beds, walkways, and toss them in the air during the marriage ceremony.
Price: — $2.02 | go to purchase |
The light panel I love you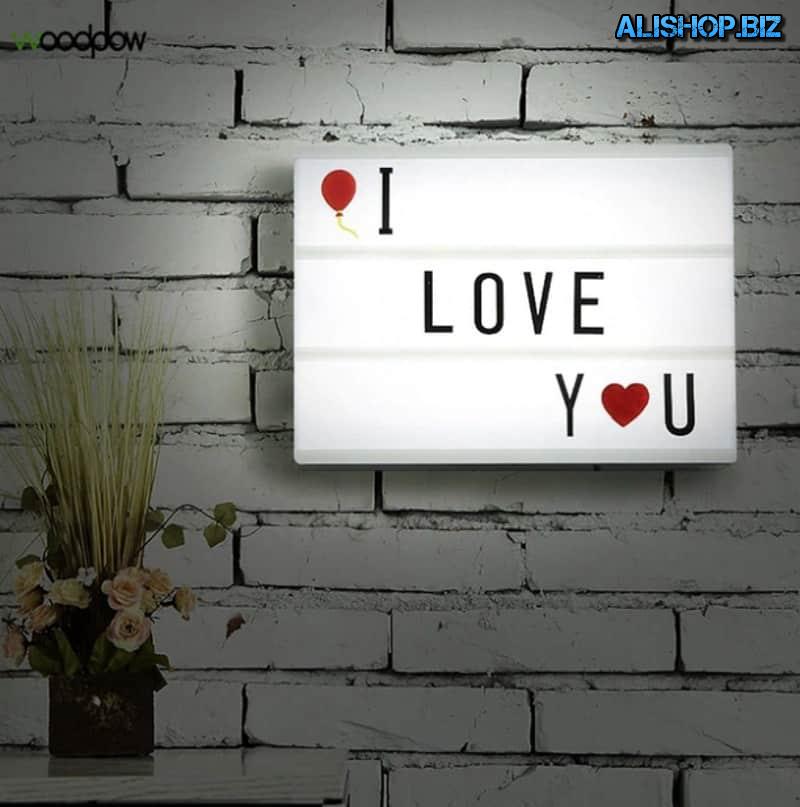 The idea of presenting a light panel as a romantic gift has several advantages. First, this fixture is a source of soft light, that is suitable for use as a nightlight. Second, using the set of letters you can compose any message, including a Declaration of love. To power such a device, you can use external power or to install in it 6 AA batteries.
Price: — $5.50 — $14.71 | go to purchase |
Balloons with romantic design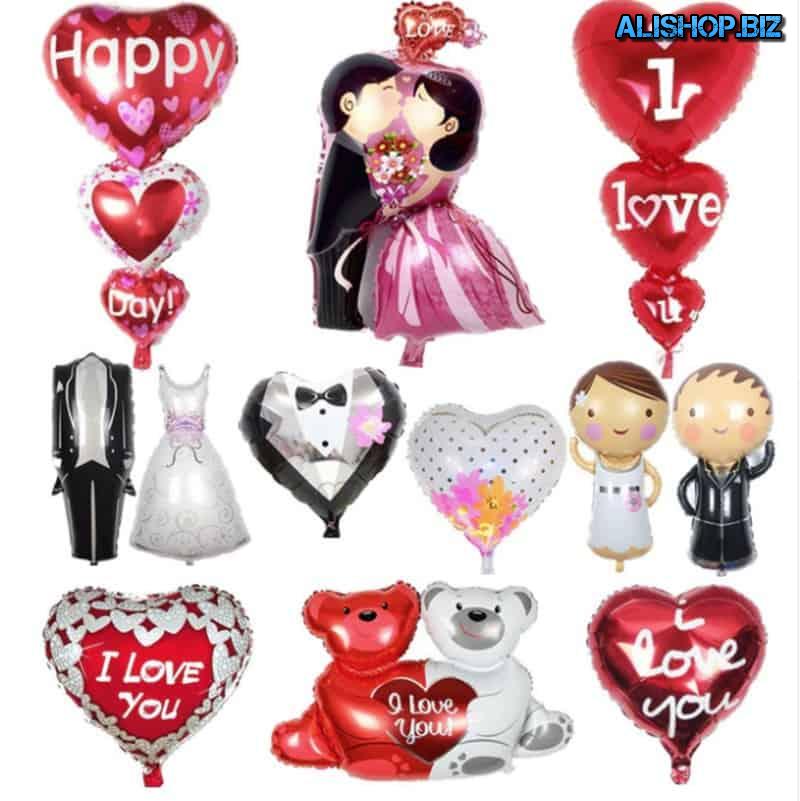 Balloons are a versatile way to decorate a room for any holiday. They also look great as a colorful Supplement to the main gift. Romantic series of balloons includes inflatables in the shape of hearts, bears, as well as a pair of newlyweds. For the manufacture of such bulbs were used the aluminum foil. Fill them with air and helium.
Price: — $0.59 — $2.87 | go to purchase |
Led inscription Love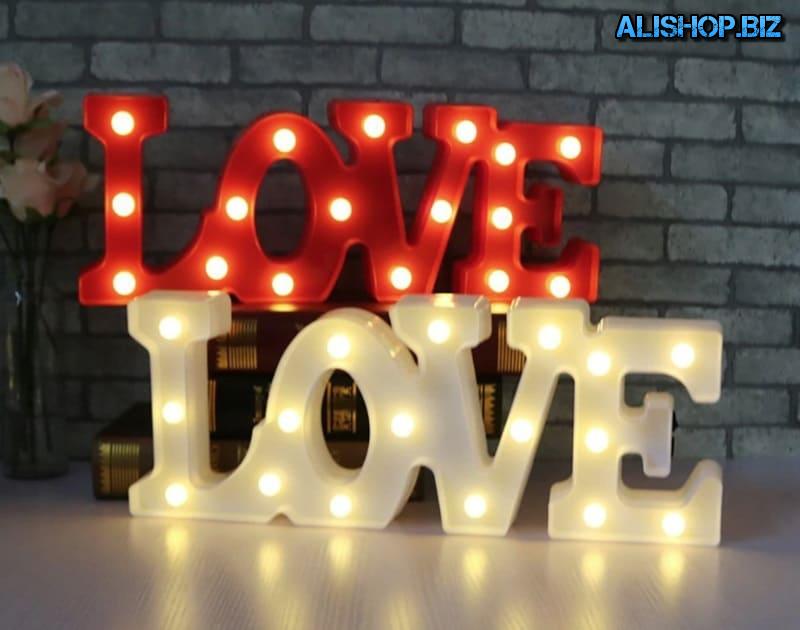 Completes the compilation of another kind of lamp, which is a large (30 x 10 cm) the inscription Love, which has led a total of 17 pieces. Power LED-elements get from 2 batteries of format AA. Due to the base width of 4 cm such an inscription can be installed on a table, shelf or windowsill. In addition, the rear wall has a pair of holes for attaching it to the wall. The device is available in red and white color.
Price: — $7.35 | go to purchase |