10 advanced stereos with Aliexpress in 2019
Today car is not just a means for playback of radio and music from disc or USB drive. The use of current models and a full-fledged Android large screen 2DIN format allowed us to extend significantly the functionality of these devices, turning them into real entertainment and navigation harvesters. This device is dedicated to this collection of goods from Aliexpress, which contains the 10-ka advanced stereos with Aliexpress in 2019.
Radio with navigation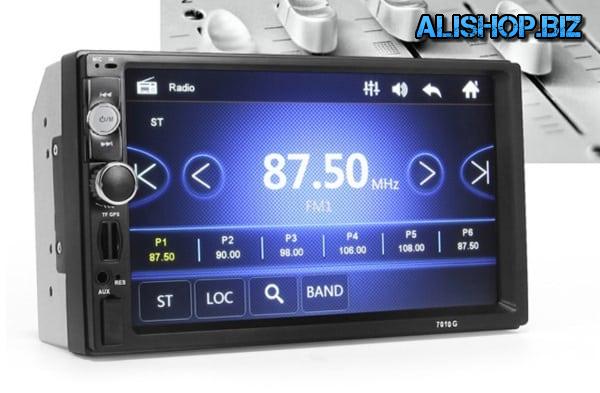 One of the most affordable devices from this collection allows you to get the most benefits of the more expensive models. Yes, there is no reader CD, but there is a slot for memory cards. From wireless interfaces are represented Bluetooth. If desired, you can connect the camera to improve rear visibility. The kit includes a small remote control, which allows to use the capabilities of the device from the back row of seats.
Price: – $79.92 | buy |
Entertainment combine Joying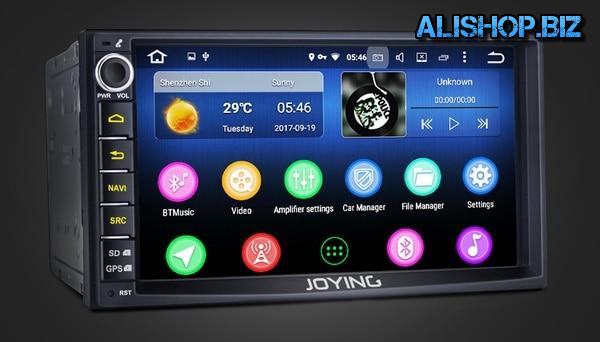 Get in the car the same pleasure as on their home sofa using a combined entertainment center Joyring. For ease of use touch interface is complemented with hardware buttons. Performance is provided by 8-core CPU, working in conjunction with 2GB of RAM. This wave is sufficient for navigation, and video demonstrations. The device is compatible with a wide range of models of cars including Ford, Toyota, Mitsubishi, Honda and Chevrolet.
Price: – $299.99 — $349.99 | buy |
A multifunctional entertainment device for Ford Focus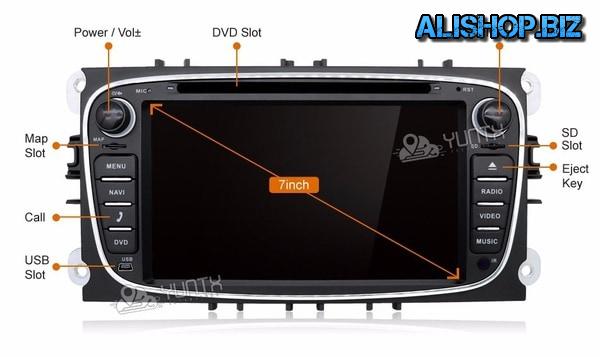 This car entertainment processor with 2GB RAM powered by Android 7.1 and is designed for installation in a popular model of Ford Focus. Of its features should be allocated the slot for the installation CDs, and an ergonomic control layout. The screen resolution is 1024 x 600 pixels. Cold start takes up to 25 seconds. There is support for Wi-Fi and 4G. As options, you can connect a rear view camera and sensors for tyre pressure.
Price: – $226.24 — $243.20 | buy |
Advanced radio Navivox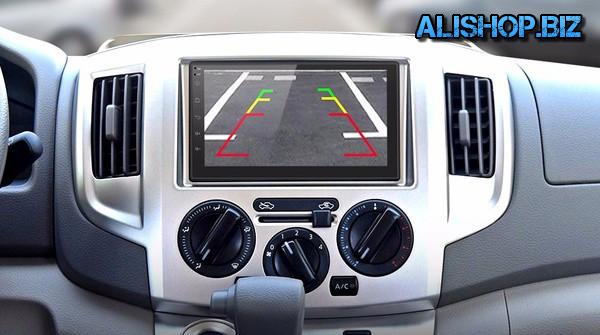 Multimedia device Navivox made in the format 2DIN, compatible with most current models of Nissan and Kia. The combined receiver GPS+GLONASS allows for incredible precision navigation. Entertainment content is displayed on the 7-inch screen, equipped with only touch controls. The presence of Bluetooth allows you to match the center with your mobile gadgets. In addition, the device supports the connection of a wide range of additional devices, including 4G modems, cameras, and sensors.
Price: – $146.85 — $190 | buy |
Entertainment center Bosion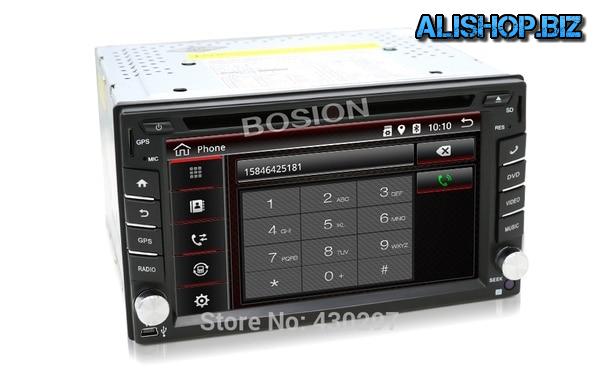 Due to the presence of the slot for the DVD model Bosion may seem old fashioned, but this is not so. 5-point touchscreen here dubbed push-button control, and the presence of Bluetooth allows you to completely free your hands during phone conversations. A large number of peripheral devices can be connected via a USB adapter. The diagonal of the entertainment center is 6 inches. The operating system uses Android 6.
Price: – $198.56 — $211.84 | buy |
Radio Eunavi on Android 7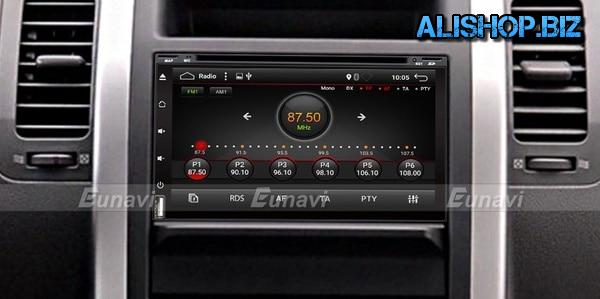 The versatility of the head unit Eunavi impressive. In addition to support from going back the DVD, it has implemented all of the options, including GPS navigation, speakerphone, mirror sharing content from mobile devices and classic radio with touch control. And if you spend money on buying additional accessories, you can get a good car TV, scan the system, but also advanced features for the rear view.
Price: – $204.44 — $219.43 | buy |
Advanced 2DIN-radio Kanor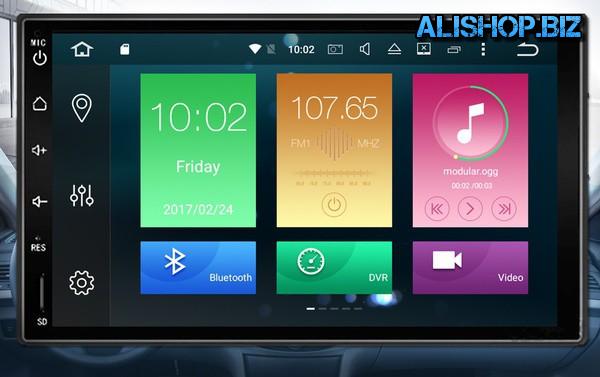 Multimedia center Kanor differs advanced technical capabilities. Here installed the whole 4 GB of RAM, complemented by 32GB for permanent storage. It is possible to establish here one of the newest Android versions 8. If desired, the storage capacity can be expanded via memory cards. Screen resolution 1024 x 600 pixels allows you to comfortably use your navigation apps, and view movies.
Price: – $228.25 — $244.85 | buy |
Multimedia center Podofo 7010b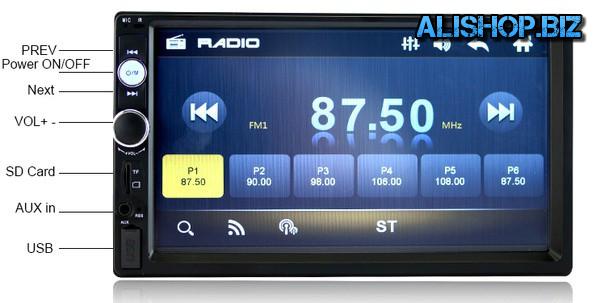 Head unit Podofo 7010b feature a 7-inch screen with a resolution of 800 x 480 pixels and combines the functions of a radio receiver, means for video playback and Navigator. The center is managed with the remote and via the touch panel. Connect the external mobile devices is possible via the cable and via Bluetooth. The front panel has a slot for memory cards microSD.
Price: – $43.98 — $56.98 | buy |
Multimedia radio Playe for VW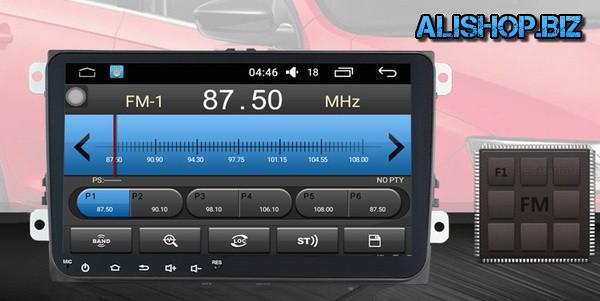 Feature radio Playe is its optimization for the overwhelming number of VW and Skoda models manufactured after 2005. The device is equipped with 2GB of RAM and offers all the basic functions of a modern head unit, including navigation, radio, playback from mobile gadgets, as well as steering wheel control. Supports the connection of additional devices. The screen supports image resolution of 1024 x 600 pixels.
Price: – $156.87 — $231.57 | buy |
The head unit with a folding screen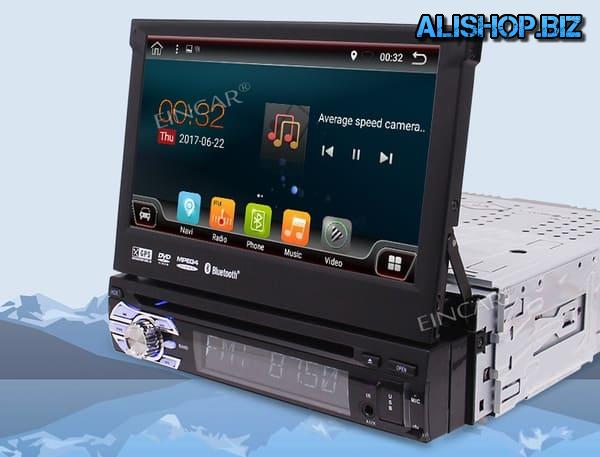 Formally, this device belongs to the category 1DIN, but it has big folding crane with a diagonal of 7 inches, which allows you to obtain all the advantages of larger devices. The front panel of the center looks like an ordinary car with a round control knob and a reader CD-ROM drive. Wi-Fi support already built into the device itself, but to gain access to 4G requires additional module.
Price: – $198.88 | buy |